Generous Hospitality at Work (Small Group Study Series)
Small Group Study / Produced by partner of TOW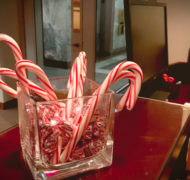 Click here to download a PDF of the Generous Hospitality at Work Small Group Study Series
Welcome to a study series on Generous Hospitality at Work. Here are some introductory comments to help you lead your small group through the studies listed in the Table of Contents.
Leader's Guide
LUKE
It's appropriate that these studies on hospitality are based in Luke. Not only does Luke have more mealtime scenes than any of the other gospel writers, he also majors in incidents, sayings, and parables that focus our attention on how we care for those who aren't normally part of our social circles. You might like to say that Luke is the gospel of Generous Hospitality.
EATING TOGETHER
It's great to study and reflect on what hospitality is. But it's even better if this is accompanied by practicing it. So, we want to suggest that you meet together around a shared meal. If you're planning on doing this series together at your workplace, then it might be as simple as soup and bread around the lunch table – or going out to a restaurant or café.
Plus, we'd like to challenge you as a group to plan another meal or two over the next few weeks where you invite some of your workmates who aren't involved in the group study but whom you'd like to express hospitality to. These meals could be as planned as a celebration, or as casual as inviting a couple of colleagues out for breakfast or lunch at a local cafe.
To help us in our practice of hospitality there is also a "Challenge for the Week" at the end of each study. Along with the meals, these challenges will help us step out of our comfort zones and risk a little. Just what we all need!
A NIGHT AT THE MOVIES
Included in the studies are six thought-provoking movies that connect with the themes of the studies. There are several ways these can be used:
As an alternative to the studies – watching the suggested movie together and discussing it. There are some questions provided to assist this.
As an evening in the week – the movies are a great way to share an evening with others you normally wouldn't get together with. Doing so over a meal or supper, as suggested above, is even better.
As an option for individuals to watch in their own time during the week. If you pursue this option, you may like to create a brief space at the beginning or end of the main study to share reflections.
PLANNING YOUR TIMES
With lots of options for meeting together, it will be important to plan well.
Studies: each study has more questions than you will probably be able to engage with in the time available, so our suggestion is that the facilitator of each study pre-select the ones they think will most engage your group.
Movies: you will need to plan ahead to ensure you have access to each movie.
Meals: it goes without saying that preparation and planning is key to good shared meals. This is particularly so if you are seeking to invite guests who are strangers. Thinking through what will help them feel welcome is as important as the meal itself.
Anyway, these are just suggestions. Ultimately it's yours to make the six weeks a time of challenge, and an opportunity to practice the life of hospitality.
Bon appetit!