Amish Grace Movie Discussion Questions
Small Group Study / Produced by partner of TOW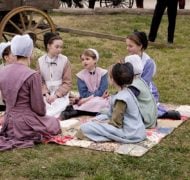 For a Bible Study that relates to the movie Amish Grace see The Ultimate Act of Hospitality Small Group Study. These movie discussion questions are part of the Generous Hospitality at Work Small Group Curriculum.
Watch Amish Grace (2010) 88 minutes
Summary: Based on the true story of the response from a Pennsylvanian Amish community when five of its children are gunned down and killed in their schoolhouse in 2006. Through the eyes of a grieving mother, Ida Graber, and other devastated families, this movie explores the Amish's astonishing reaction to the horrific shootings - of forgiveness and compassion.
What impacted you most from this story?
What are some of the surprising ways hospitality is expressed in this story? Are there any inconsistencies – ways in which there is also inhospitality?
In response to the leader of the Amish community saying, "We harbor no grudge", the TV news reporter said, "I don't know what to do with this?" Why do you think the offer of forgiveness is so counter cultural?
Ida (Mary Beth's mother) says to her husband, "I will not betray my daughter by forgiving the man who killed her." Why do we often struggle with the tension between justice and love/forgiveness?
Why do you think Gideon struggled so much with what to do with Ida's anger and grief?
The leader of the Amish community says, "Forgiveness comes from an open heart and it comes without condition, or it does not come at all."
What role does forgiveness play in generous hospitality?
What about the beliefs of the Amish community do you find challenging to your own perspective? What elements do you struggle or disagree with?
Read Luke 22:7-30 (The Last Supper)
In what way do you think Jesus' impending death is the ultimate act of hospitality?
What is your own experience of receiving Jesus' "ultimate act of hospitality"? What difference has this made for you personally? And for you in relating to others?
Share any ways your offering of hospitality (to each other, or to the "stranger") might change as a result of these past few weeks together.
---
---