God's Story of Work for Kids - Sunday School Curriculum
Small Group Study / Produced by partner of TOW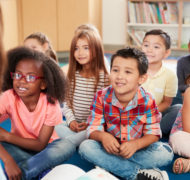 God's Story of Work for Kids - Introduction
Both children and adults need to work, whether that work is paid (like a paper route) or unpaid (like folding the laundry). But for many adults and children, work has become a dirty word. Work means things that we don't want to do. We may even think God doesn't care about our work, only about praying or reading the Bible. But a look at the Bible reveals the opposite. God Himself is a worker. He has designed us for work. And God values our work deeply. Work is a good thing! When children and their parents learn about God's plan for work, their daily activities take on a new meaning and holiness.
This 12 lesson curriculum is a free resource designed to teach children to see work through God's perspective.
For each lesson the curriculum includes
Large group lesson
Small group activities
Parents take-home sheet to work through the lesson together during the week
Feel free to use this material in your Sunday school program, in your church youth group, or in your own home.