Just Decisions
Book / Produced by Individual TOW Project member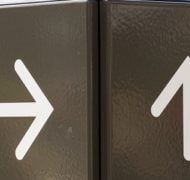 Another version of Part One of this book appears as the TOW article "Ethics and Work."
This book is all about making decisions – ones that are consistent with our Christian faith - especially in the marketplace. Ones that are good, right, just, and appropriate.
We – Alistair and Wayne – are the authors of this book. Our friendship goes back a long way, and has helped us bring together several perspectives on life. Both of us – like you, perhaps – have a considerable stake in the world of commerce and business. The routes our two lives have followed have brought us face-to-face with many of the dilemmas of that world.
We'll start by throwing ourselves in at the deep end – by entering Wayne's business world, just to see how complex it all can be. Wayne has a decision to make. Wayne wants to be guided by God's perspectives in his dilemma, so we'll join him in a search for the principles that God might want him to follow.
We'll look at the three most common approaches among Christians for making moral choices. We will consider how much the Bible provides help in each of these approaches. Then we'll explore whether we can combine the three in some way to give us a more balanced and integrated approach.
After working through Wayne's dilemma, we'll branch out to look at the faith and work arena more broadly. One of the important assumptions throughout this book is that following Jesus needs to inform, impact,, and transform every area of our lives – including our work in the marketplace. How we conduct our business should be markedly different because of our faith. But are there some matters where engaging in business and our faith is simply incompatible? Or are there at least issues where, in order to be faithful to Jesus and be successful at work, we have to compromise? Perhaps we are just fooling ourselves. Can we really follow Jesus and at the same time be involved in the world of commerce?
​Alistair Mackenzie began his working life in the timber mill, then as a truck driver. He spent 21 years in pastoral ministry in three Baptist churches in N.Z and 12 years in the leadership of Servants to Asia's Urban Poor. He is currently a Senior Lecturer in the School of Theology, Mission and Ministry at Laidlaw College. Most of Alistair's research has been devoted to exploring how churches can better equip and support Christians for ministry in daily life. Alistair is married to Alison and they have two children, Catherine and Christopher and a lovely grand-daughter Ruby.
Wayne Kirkland is married to Jill and they live in Wellington, New Zealand. Wayne is a freelance writer and has previously been a youth worker and used car dealer. He is author or coauthor of several books.