Does the Bible Prohibit Charging Interest?
Article / Produced by TOW Project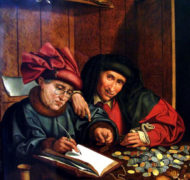 Another question is whether financial prices—interest in particular—are prohibited by the Bible. For centuries Christians have debated the applicability of the biblical texts which seem to prohibit interest or the taking of collateral[1] as for example in this passage:
You shall not charge interest on loans to another Israelite, interest on money, interest on provisions, interest on anything that is lent. On loans to a foreigner you may charge interest, but on loans to another Israelite you may not charge interest, so that the Lord your God may bless you in all your undertakings in the land that you are about to enter and possess.(Deuteronomy 23:19-20)
To explore this and other relevant passages, see "Employing Assets for the Common Good (Deuteronomy 23:1-24:13)", "Lending and Collateral (Exodus 22:25-27)", "The Sabbath Year and the Year of Jubilee (Leviticus 25)", "The Righteous Man Does Not Take Advance or Accrued Interest (Ezekiel 18.8a)", "The Righteous Man Does Not Oppress, But Restores to the Debtor his Pledge (Ezekiel 18:5,7)".
For the most part, Christians have concluded that interest is not inherently prohibited in modern societies, but that lending practices— including interest rates and collateral—must not take advantage of vulnerable people or make people destitute. This is in fact what we are advocating here—that finance is meant as a means of stewardship, care, and respect.
---
---
For more on this see Paul Mills, "Interest in Interest: The Old Testament Ban on Interest and its Implications for Today," Jubilee Center Publications Ltd., 1993; Eric Elder, "The Biblical Prohibition Against Charging Interest: Does It Apply to Us?", The Journal of Biblical Integration in Business (Fall 1999) 32-41; Brian E. Porter, "Charging Interest: Is it Biblical? A Response", The Journal of Biblical Integration in Business (Fall 1999) 43-46; or Liang, "The Global Financial Crisis: Biblical Perspectives on Corporate Finance".
Copyright
Contributors: Leonard D. Van Drunen
Adopted by the Theology of Work Project Board February 6, 2014.
Author: Theology of Work Project
Theology of Work Project Online Materials by Theology of Work Project, Inc. is licensed under a Creative Commons Attribution-NonCommercial 4.0 International License. Based on a work at www.theologyofwork.org
You are free to share (to copy, distribute and transmit the work), and remix (to adapt the work) for non-commercial use only, under the condition that you must attribute the work to the Theology of Work Project, Inc., but not in any way that suggests that it endorses you or your use of the work.
© 2014 by the Theology of Work Project, Inc.
Unless otherwise noted, the Scripture quotations contained herein are from the New Revised Standard Version Bible, Copyright © 1989, Division of Christian Education of the National Council of the Churches of Christ in the U.S.A., and are used by permission. All rights reserved.