Does the Bible Prohibit Charging Interest?
Article / Produced by TOW Project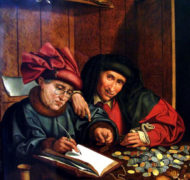 Another question is whether financial prices—interest in particular—are prohibited by the Bible. For centuries Christians have debated the applicability of the biblical texts which seem to prohibit interest or the taking of collateral[1] as for example in this passage:
You shall not charge interest on loans to another Israelite, interest on money, interest on provisions, interest on anything that is lent. On loans to a foreigner you may charge interest, but on loans to another Israelite you may not charge interest, so that the Lord your God may bless you in all your undertakings in the land that you are about to enter and possess.(Deuteronomy 23:19-20)
To explore this and other relevant passages, see "Employing Assets for the Common Good (Deuteronomy 23:1-24:13)", "Lending and Collateral (Exodus 22:25-27)", "The Sabbath Year and the Year of Jubilee (Leviticus 25)", "The Righteous Man Does Not Take Advance or Accrued Interest (Ezekiel 18.8a)", "The Righteous Man Does Not Oppress, But Restores to the Debtor his Pledge (Ezekiel 18:5,7)".
For the most part, Christians have concluded that interest is not inherently prohibited in modern societies, but that lending practices— including interest rates and collateral—must not take advantage of vulnerable people or make people destitute. This is in fact what we are advocating here—that finance is meant as a means of stewardship, care, and respect.
---
---