Ephesians and Work
Bible Commentary / Produced by TOW Project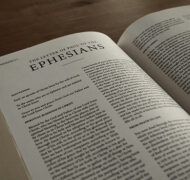 I therefore, the prisoner in the Lord, beg you to lead a life worthy of the calling to which you have been called. (Eph. 4:1)
Back to Table of Contents
---
In this daily reflection from The High Calling, Mark Roberts considers how the command to "no longer live as the Gentiles do" might be relevant to our work. If we set aside worldly ways of thinking about work and embrace God's vision, we will be able to live fruitfully, with our work as a primary means to serve God and our fellow human beings, as well as a way to enjoy the fullness of life God intends for us.
What is the place of our work in the grand scheme of things? Is work just an activity we need to get by in life? Or is it also a place where we find meaning, healing, and personal integration?[1] Does our work have a place in the cosmos of God's creation? Does it mean anything alongside Christ's work of redeeming the world?
The letter to the Ephesians tells the story of God's cosmic work, be­ginning before the creation of the world, continuing in Christ's work of redemption, and leading up to the present moment and beyond. It draws us into this work both as awestruck observers of the drama and as active participants in God's work.
Thus Ephesians gives a new perspective, not only about God but also about ourselves. Our lives, our actions, and indeed our work take on fresh meaning. We live differently, we worship differently, and we work differently because of what God has done and is doing in Christ. We do what we do with our lives, including our professional lives, in response to God's saving activity and in fulfillment of the assignment he has given us to cooperate with him. Each one of us has been called by God to par­ticipate in God's work in the world (Eph. 4:1).
The letter we know as "Ephesians" is both similar to and different from other New Testament letters attributed to the Apostle Paul. It is similar most of all to Colossians, with which it shares common themes, structures, and even sentences (Eph. 6:21–22; Col. 4:7–8).[2] Ephesians is different from the other Pauline letters in its exalted style, distinctive vo­cabulary, and in some of its theological perspectives. Moreover, it is much less oriented to a particular situation in the life of a particular church than Paul's other letters.[3] In this commentary, authorship by Paul is assumed.
Rather than focusing on the needs of one particular congregation, the letter to the Ephesians presents an expansive theological perspective on the work of God in the universe and the central role of the church of Jesus Christ within that work. Each individual believer contributes to this ecclesial effort as one who has been "created in Jesus Christ for good works" (Eph. 2:10) and who is essential to the growth and ministry of the church (Eph. 4:15–16).
Back to Table of Contents
---
In this daily reflection from The High Calling Mark Roberts considers how when our core identity is determined, not by what we do for a living, but by our relationship with God through Jesus Christ, everything in life shifts.
The first half of Ephesians unfolds the grand narrative of God's salva­tion of the whole cosmos. Even before the "foundation of the world," God graciously chose us in Christ for relationship with him and to live out his purpose in the world (Eph. 1:4–6). At the core of this purpose, God will "gather up all things in Christ, things in heaven and things on earth" (Eph. 1:10). To put it differently, God will restore the whole cosmos, once bro­ken by sin, under the authority of Christ. The fact that God will renovate his creation reminds us that this world—including farms, schools, and corporations—matters to God and has not been abandoned by him.
God's restoring work, centered in Christ, involves human beings, both as recipients of God's grace and as participants in his ongoing work of gracious restoration. We are saved by grace because of faith, not be­cause of our works (Eph. 2:8–9). But our works are vital to God, "for we are what he has made us, created in Christ Jesus for good works, which God prepared beforehand to be our way of life" (Eph. 2:10). Thus we are not saved by works but for works. These works, which include all that we do, are a part of God's renewal of creation. Therefore, our activity in the workplace is one crucial element of that which God has prepared for us to do in fulfillment of his purpose for us.
The church features prominently in God's plan for putting the world back together in Christ. His death on the cross not only made possible our personal salvation (Eph. 2:4–7), but also mended the breach be­tween Jews and Gentiles (Eph. 2:13–18). This unity between former enemies epitomizes the unifying work of God. Thus the church serves as a demonstration to the whole universe of the nature and ultimate suc­cess of God's cosmic plan (Eph. 3:9–10). But the church is not merely a unit of people who gather once a week to do religious activities together. Rather, the church is the community of all believers, doing everything they do in all the places of life, whether working together or separately. In every sphere of life, we have "the power at work within us [which] is able to accomplish abundantly far more than all we can ask or imagine" (Eph. 3:20). Notice that Paul uses the civic term "citizens" (Eph. 2:19) to describe Christians, rather than the religious term "worshippers." In fact, Ephesians gives virtually no instructions about what the church should do when it gathers, but several instructions about how its mem­bers should work, as we will see momentarily.
Back to Table of Contents
---
In this daily reflection fromThe High Calling, Mark Roberts considers how the command to "no longer live as the Gentiles do" might be relevant to our work. If we set aside worldly ways of thinking about work and embrace God's vision, we will be able to live fruitfully, with our work as a primary means to serve God and our fellow human beings, as well as a way to enjoy the fullness of life God intends for us.
The second half of Ephesians begins with an exhortation to live out the vision of the first half of the letter. "I therefore, the prisoner in the Lord, beg you to lead a life worthy of the calling to which you have been called" (Eph. 4:1). Every Christian shares in this calling. Thus our tru­est and deepest vocation (from the Latin word for "calling") is to do our part to advance the multifaceted mission of God in the world. This calling shapes everything else we do in life, including our work—or what we sometimes refer to as our "vocation." Of course, God may guide us to specific jobs for expressing our fundamental calling to live for the praise of God's glory (Eph. 1:12). Thus as doctors and lawyers, clerks and wait­ers, actors and musicians, and parents and grandparents, we lead a life worthy of our calling to Christ and his activity in the world.
Back to Table of Contents
---
Among the practical exhortations in Ephesians 4–6, two passages deal specifically with work-related concerns. The first has to do with the purpose of work. "Thieves must give up stealing; rather let them labor and work honestly with their own hands, so as to have something to share with the needy" (Eph. 4:28). Though pointed immediately at those who steal, Paul's advice is relevant to all Christians. The Greek translated in the NRSV as "honestly" (to agathon) literally means "to the good." God is always leading Christians to the good. The workplace is a crucial setting for us to do many of the good works that God has prepared for us (Eph. 2:10).
Through our work, we also earn sufficient resources to share with the needy, whether directly through the church or by other means. Although a theology of work is not quite the same as a theology of charity, this verse explicitly links the two. The overall message is that the purpose of work is to do good both by what our work accomplishes directly and by what our work enables us to give to others outside of work.
Back to Table of Contents
---
The second practical consideration is relationships. Our calling as Christians impacts our basic relationships, especially those in the family and the workplace. (Prior to the industrial age, households were equally places of family life and places of work.) Ephesians 5:21–6:9 underscores this point by including specific instructions for relationships within the household (wives/husbands, children/fathers, slaves/masters). Lists of this sort were common in the moral discourse of the Greco-Roman world and are represented in the New Testament (see, for example, Col. 3:18–4:1 and 1 Pet. 2:13–3:12).[1]
We are particularly interested in Ephesians 6:5–9, a passage that addresses the relationship between slaves and masters. Paul addresses Christians who are masters, Christians who are slaves under Christian masters, and Christians who are slaves under nonbelieving masters. This text is similar to a parallel passage in Colossians (Col. 3:22–4:1). (See "Colossians" in "Colossians & Philemon and Work" for the historical background on slavery in the first-century Roman Empire, which is help­ful for understanding this section of Ephesians.) To summarize briefly, Roman slavery has both similarities to and differences from paid work in the twenty-first century. The chief similarity is that both ancient slaves and contemporary workers serve under the authority of masters or su­pervisors. With regard to the work itself, both groups have a duty to meet the expectations of those in authority over their work. The chief differ­ence is that ancient slaves (and those in modern times as well) owe not only their work but also their lives to their masters. Slaves cannot quit, they have limited legal rights and remedies for mistreatment, they do not receive pay or compensation for their work, and they do not negotiate working conditions. In short, the scope for abuse of power by masters over slaves is far greater than that for supervisors over workers.
We will begin by exploring this section of Ephesians as it applies to actual slaves. Then we will consider applications to the form of paid labor that dominates developed economies today.
Back to Table of Contents
---
Only a few verses of Ephesians deal precisely with the workplace and even these are directed at thieves, slaves, and masters. But when we glimpse how God is restoring all of creation through Christ, and when we discover that our work plays an essential role in that plan, then our workplace becomes a primary context for us to do the good works that God has prepared for us. Ephesians does not tell us specifically what good works God has prepared for each of us in our work. We must look to other sources to discern that. But it does tell us that God calls us to do all of our work for the good. Relationships and attitudes in the workplace are transformed as we see ourselves and our co-workers mainly in terms of our relationship with Jesus Christ, the one true Lord.
Ephesians encourages us to take a new perspective on our lives, one in which our work is an outgrowth of God's own work of creating the world and redeeming it from sin. We work in response to God's call to follow Jesus in every aspect of our lives (Eph. 4:1). At work, we discover the opportunity to do many of the good works that God intends for us to do. Thus in our offices, factories, schools, households, stores, and every other place of work, we have the opportunity to "render service with enthusiasm" to the Lord (Eph. 6:7).
---
---