Jesus Teaches Nicodemus (John 3:1-21)
Bible Commentary / Produced by TOW Project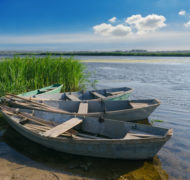 Jesus' discussions with Nicodemus and his disciples hold innumerable treasures. We will begin with a verse that has profound implications for human labor. "The Father loves the Son, and has placed all things in his hands" (John 3:35). While the immediate context emphasizes the fact that the Son speaks the Father's words, the remainder of the Gospel makes it clear that "all things" really does mean "all things." God has authorized his Messiah to create all things, God sustains all things through him, and God will bring all things to their appointed goal through him.
This passage reiterates what we learned in the prologue: the Father involves the Son in the founding and sustaining of the world. What is new is the revelation of why the Father chose to include the Son, rather than simply creating by himself. It was an act of love. The Father shows his love for the Son by placing all things in his hands, beginning with the act of creation. The world is a "labor of love" in the fullest sense of the word. Work must be something more wonderful than we usually give it credit for, if adding to someone's workload is an act of love. We will develop this all important idea further as we see Jesus in action throughout the remainder of the Gospel.
But chapter three does more than reiterate how the Word took on human flesh. It also illustrates the inverse process, how human flesh can become filled with God's spirit. "Very truly, I tell you, no one can enter the kingdom of God without being born of water and Spirit (John 3:5). We receive God's Spirit ("enter his kingdom") through a form of birth. Birth is a process that occurs in the flesh. When we become truly spiritual, we do not slough off the flesh and enter some immaterial state. Instead, we are more perfectly born — born "from above" (John 3:3) — into a state of union of Spirit and flesh, like Jesus himself.
During his discussion with Nicodemus, Jesus says that those born from above will "come to the light, so that it may be clearly seen that their deeds have been done in God" (John 3:21). Later he uses the metaphor of walking in the light to illustrate the same idea (John 8:12; 11:9-10; 12:35-36). This has important ethical implications for work. If we are conducting all our work openly, we have a powerful tool for remaining faithful to the ethics of God's kingdom. But if we find ourselves hiding or obscuring our work, it is often a strong indication that we are following an unethical path. This is not an unbending rule, for Jesus himself acted in secret at times (John 7:10), as did his followers, such as Joseph of Arimathea (John 19:38). But at the least we might ask, "Who is my secrecy truly protecting?"
For example, consider a man heading a business in mission in Africa that builds boats for use on Lake Victoria. He says he is frequently approached by local officials who want him to pay a bribe. The request is always made in secret. It is not a documented, open payment, as is a tip or an expediting fee for faster service. There are no receipts and the transaction is not recorded anywhere. He has used John 3:20-21 as an inspiration to draw these requests into the light. He will say to the official requesting the bribe, "I don't know much about these kinds of payments. I would like to bring in the ambassador, or the management, to get this documented." He has found this to be a helpful strategy to dealing with bribery.
It is important to understand that the metaphor of walking in the light is not a one-size-fits-all rule. Confidentiality and secrecy can have a proper place in work, as in personnel matters, online privacy or trade secrets. But even if we deal with information that should not be made public, we seldom need to act in complete darkness. If we are hiding our actions from others in our departments or from people with a legitimate interest, or if we would be ashamed to see them reported in the news, then we may have a good indication that we are acting unethically.
---
---