"You Shall Have No Other Gods before Me" (Exodus 20:3)
Bible Commentary / Produced by TOW Project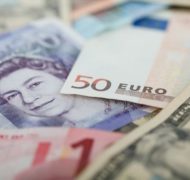 The first commandment reminds us that everything in the Torah flows from the love we have for God, which in turn is a response to the love he has for us. This love was demonstrated by God's deliverance of Israel "out of the house of slavery" in Egypt (Exod. 20:2). Nothing else in life should concern us more than our desire to love and be loved by God. If we do have some other concern stronger to us than our love for God, it is not so much that we are breaking God's rules, but that we are not really in relationship with God. The other concern—be it money, power, security, recognition, sex, or anything else—has become our god. This god will have its own commandments at odds with God's, and we will inevitably violate the Torah as we comply with this god's requirements. Observing the Ten Commandments is only conceivable for those who start by having no other god than God.
In the realm of work, this means that we are not to let work or its requirements and fruits displace God as our most important concern in life. "Never allow anyone or anything to threaten God's central place in your life," as David Gill puts it.[1] Because many people work primarily to make money, an inordinate desire for money is probably the most common work-related danger to the first commandment. Jesus warned of exactly this danger. "No one can serve two masters…. You cannot serve God and wealth" (Matt. 6:24). But almost anything related to work can become twisted in our desires to the point that it interferes with our love for God. How many careers come to a tragic end because the means to accomplish things for the love of God—such as political power, financial sustainability, commitment to the job, status among peers, or superior performance—become ends in themselves? When, for example, recognition on the job becomes more important than character on the job, is it not a sign that reputation is displacing the love of God as the ultimate concern?
A practical touchstone is to ask whether our love of God is shown by the way we treat people on the job. "Those who say, 'I love God,' and hate their brothers or sisters, are liars; for those who do not love a brother or sister whom they have seen, cannot love God whom they have not seen. The commandment we have from him is this: those who love God must love their brothers and sisters also" (1 John 4:20-21). If we put our individual concerns ahead of our concern for the people we work with, for, and among, then we have made our individual concerns our god. In particular, if we treat other people as things to be manipulated, obstacles to overcome, instruments to obtain what we want, or simply neutral objects in our field of view, then we demonstrate that we do not love God with all our heart, soul, and mind.
In this context, we can begin to list some work-related actions that have a high potential to interfere with our love for God. Doing work that violates our conscience. Working in an organization where we have to harm others to succeed. Working such long hours that we have little time to pray, worship, rest, and otherwise deepen our relationship with God. Working among people who demoralize us or seduce us away from our love for God. Working where alcohol, drug abuse, violence, sexual harassment, corruption, disrespect, racism, or other inhumane treatment mar the image of God in us and the people we encounter in our work. If we can find ways to avoid these dangers at work—even if it means finding a new job—it would be wise to do so. If that is not possible, we can at least be aware that we need help and support to maintain our love of God in the face of our work.
---
---