"You Shall Not Murder" (Exodus 20:13)
Bible Commentary / Produced by TOW Project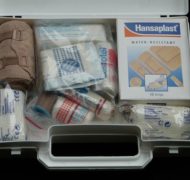 Sadly, the sixth commandment has an all-too-practical application in the modern workplace, where 10 percent of all job-related fatalities (in the United States) are homicides.[1] However, admonishing readers of this article, "Don't murder anyone at work," isn't likely to change this statistic much.
But murder isn't the only form of workplace violence, just the most extreme. Jesus said that even anger is a violation of the sixth commandment (Matt. 5:21-22). As Paul noted, we may not be able to prevent the feeling of anger, but we can learn how to cope with our it. "Be angry but do not sin; do not let the sun go down on your anger" (Eph. 4:26). The most significant implication of the sixth commandment for work then may be, "If you get angry at work, get help in anger management." Many employers, churches, state and local governments, and nonprofit organizations offer classes and counseling in anger management, and availing yourself of these may be a highly effective way of obeying the sixth commandment.
Murder is intentional killing, but the case law that stems from the sixth commandment shows that we also have the duty to prevent unintended deaths. A particularly graphic case is when an ox (a work animal) gores a man or woman to death (Exod. 21:28-29). If the event was predictable, the ox's owner is to be treated as a murderer. In other words, owners/managers are responsible for ensuring workplace safety within reason. This principle is well established in law in most countries, and workplace safety is the subject of significant government policing, industry self-regulation, and organizational policy and practice. Yet workplaces of all kinds continue to require or allow workers to work in needlessly unsafe conditions. Christians who have any role in setting the conditions of work, supervising workers, or modeling workplace practices are reminded by the sixth commandment that safe working conditions are among their highest responsibilities in the world of work.
---
---