Abraham's Journey Begins with Disaster in Egypt (Genesis 12:8-13:2)
Bible Commentary / Produced by TOW Project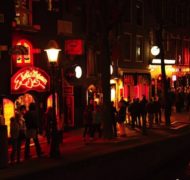 The initial results of Abraham's journeys were not promising. There was fierce competition for the land (Gen. 12:6), and Abraham spent a long time trying to find a niche to occupy (Gen. 12:8-9). Eventually, deteriorating economic conditions forced him to pull out entirely and take his family to Egypt, hundreds of miles away from the land of God's promise (Gen. 12:10).
As an economic migrant to Egypt, Abraham's vulnerable position made him fearful. He feared that the Egyptians might murder him to obtain his beautiful wife, Sarah. To prevent this, Abraham told Sarah to claim that she was his sister rather than his wife. As Abraham anticipated, one of the Egyptians—Pharaoh, in fact—did desire Sarah and she "was taken into Pharaoh's house" (Gen. 12:15). As a result, "the Lord afflicted Pharaoh and his house with great plagues" (Gen. 12:17). When Pharaoh found out the reason—that he had taken another man's wife—he returned Sarah to Abraham and immediately ordered them both to depart his country (Gen. 12:18-19). Nevertheless, Pharaoh enriched them with sheep and cattle, male and female donkeys, male and female servants as well as camels (Gen. 12:16), and silver and gold (Gen. 13:2), a further indication that Abraham's wealth (Gen. 13:2) was due to royal gifts.[1]
This incident dramatically indicates both the moral quandaries posed by great disparities in wealth and poverty and the dangers of losing faith in the face of such problems. Abraham and Sarah were fleeing starvation. It may be hard to imagine being so desperately poor or afraid that a family would subject its female members to sexual liaisons in order to survive economically, but even today millions face this choice. Pharaoh berates Abraham for taking this course of action, yet God's response to a later, similar incident (Gen. 20:7, 17) shows more of compassion than judgment.
On the other hand, Abraham had received God's direct promise, "I will make of you a great nation" (Gen. 12:2). Did his faith in God to make good on his promises fail so quickly? Did survival really require him to lie and allow his wife to become a concubine, or would God have pro­vided another way? Abraham's fears seem to have made him forget his trust in God's faithfulness. Similarly, people in difficult situations often convince themselves that they have no choice but to do something they regard as wrong. However, unpleasant choices, no matter our feelings about them, are not the same as having no choice at all.
---
---