Solomon Builds the Temple of the Lord (1 Kings 5-8)
Bible Commentary / Produced by TOW Project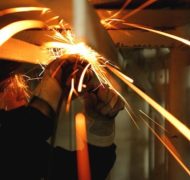 Solomon's first major task it to build the Temple of the Lord. To achieve this architectural feat, Solomon employs professionals from all corners of his kingdom. Three chapters (1 Kings 5-7) are devoted to describing the work of building the Temple, of which we have space only for a small selection:
Solomon also had seventy thousand laborers and eighty thousand stonecutters in the hill country, besides Solomon's three thousand three hundred supervisors who were over the work, having charge of the people who did the work. At the king's command, they quarried out great, costly stones in order to lay the foundation of the house with dressed stones. (1 Kings 5:15–17)

He cast two pillars of bronze. Eighteen cubits was the height of the one, and a cord of twelve cubits would encircle it; the second pillar was the same. He also made two capitals of molten bronze, to set on the tops of the pillars; the height of the one capital was five cubits, and the height of the other capital was five cubits. There were nets of checker work with wreaths of chain work for the capitals on the tops of the pillars; seven for the one capital, and seven for the other capital. (1 Kings 7:15–17)

So Solomon made all the vessels that were in the house of the Lord: the golden altar, the golden table for the bread of the Presence, the lampstands of pure gold, five on the south side and five on the north, in front of the inner sanctuary; the flowers, the lamps, and the tongs, of gold; the cups, snuffers, basins, dishes for incense, and firepans, of pure gold; the sockets for the doors of the innermost part of the house, the most holy place, and for the doors of the nave of the temple, of gold. Thus all the work that King Solomon did on the house of the Lord was finished. Solomon brought in the things that his father David had dedicated, the silver, the gold, and the vessels, and stored them in the treasuries of the house of the Lord. (1 Kings 7:48–51)
From accomplished professionals to forced laborers, the people of the kingdom contribute their knowledge and skills to help build the Temple. In so doing, Solomon involves numerous people to help build and sustain his kingdom. Whether or not it is Solomon's intention, employing so many people from all walks of life ensures that the vast majority of citizens hold personal investment in the political, religious, social, and economic well being of the kingdom.
---
---