From Failed Monarchies to Exile (1 Kings 11 - 2 Kings 25; 2 Chronicles 10-36)
Bible Commentary / Produced by TOW Project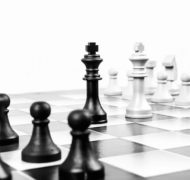 Solomon is only the third king of Israel, but already the kingdom has reached its high point. Over the next four hundred years, one bad king after another leads the nation into decline, disintegration and defeat.
Solomon's Mighty Nation Divided in Two (1 Kings 11:26-12:19)
After Solomon's death it soon becomes clear that unrest had been brewing beneath the veneer of equitable and effective management. Following the great king's death, Jeroboam (earlier the head of forced laborers) and "all the assembly of Israel" approach the king's son and successor, Rehoboam (c. 931 - 914 B.C.), to ask him to "lighten the hard service of your father and his heavy yoke" (1 Kings 12:3-16; 2 Chronicles 10). They are ready to pledge loyalty to the new king in return for a reduction in forced labor and high taxes.[1] But for forty years Rehoboam has known only luxurious palace living, staffed and provisioned by the Israelite people. His sense of entitlement is too strong to allow for compromise. Rather than easing the undue burden placed on the people by his father, Rehoboam chooses to make their yoke even greater.
Further fulfilling Samuel's prediction (1 Samuel 8:18), a rebellion ensues and the monarchy becomes divided forever. As much as the people of Israel had been willing to perform their fair share of labor to support the state, the emergence of unrealistic and unreasonable expectations results in revolt and division. The ten northern tribes secede, anointing Jeroboam (c. 931 - 910 B.C.) as their king. Although he had been a leader in the delegation seeking tax relief from Rehoboam, his dynasty proves no better for its people.
The Northern Kingdom's March Toward Exile (1 Kings 12:25 - 2 Kings 17:18)
For two centuries (910-722 BC) the northern kingdom of Israel is ruled by kings who do great evil in the sight of the Lord. These centuries are marked by constant war, treason, and murder, culminating in a catastrophic defeat by the nation of Assyria. To destroy all sense of national identity, Assyrian conquerors carry off the population, dispersing them in different parts of their empire and bringing in foreigners to populate the conquered land (2 Kings 17:5-24). As discussed under "David's disobedience to God causes a national pestilence (1 Chronicles 2:1-17)," the failings of leaders often have devastating effect on their people.