God Is a Worker (Take-Home Activity for Parents and Kids)
Small Group Study / Produced by partner of TOW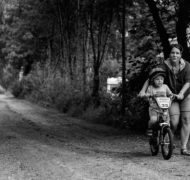 This lesson is part of God's Story of Work for Kids, a 12-week curriculum that teaches children to see work through God's perspective.
This Week's Focus: God is a Worker!
This week we learned that God is a worker. Genesis 2:8 shows God as a gardener. The important role work plays in our own lives is one way we reflect God's image. Today's lesson introduced the idea that God is a worker and showed ways God is at work even today. We usually describe God with characteristics such as holy, good, just, kind, merciful, and generous. We often think of God as king, ruler and Lord - images that might convey being above working. But we will learn in the following lessons of this series that God not only works today, God is in the work that children and adults do.
Do This Week's Workout: God Hunt!
The Weekly Workout is a great way you can work out the week's focus with your child. As you go on this hunt, see how many ways you can find God at work. It may be things you see, words you read or hear, or even smells in the air.
Choose a place with your child to take a walk.
Before you leave, explain that each of you will look for different ways that you see God at work. If children desire, they can take a notepad to jot down or even draw their ideas.
Walk through the area and share as you go. For example, if you walk through a playground, you can notice that God's creativity in the different personalities of all the children and adults. Or if you walk through the grocery store, smell the produce. It took a lot of time, sunshine, rain, and hard work to make each thing grow. God provided all of that. God also provides jobs through the store, which then helps provide many more things for employees and their families.
Talk about it: How was it to look for God at work? Was it hard? Easy? Did you find more of God at work than you expected to see? What were some of your favorite finds?
---
---