Prison to Work
Small Group Study / Produced by TOW Project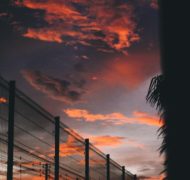 In April 2017 The Theology of Work Project piloted this curriculum with men and women coming out of prison or addiction and heading into the job market. These men and women were residents at Southern California Teen Challenge, a Christian residential rehabilitation program. The theological material in this study was taught in conjunction with practical skills such as resume writing, interviewing, budgeting, and managing debt.
Southern California Teen Challenge hosts two separate rehabilitation programs, one for men and one for women. In addition to the practical considerations that make this a good idea, men and women face different entry-level job markets. Men are likely to go into construction or warehouse labor, while women are more likely to work in service industry jobs. Because role-playing workplace scenarios and thinking through case studies is an important learning divide for this curriculum, we have created two versions: a curriculum for men rehabilitating from prison and addiction, and a curriculum for women rehabilitating from prison, addiction, and prostitution. While common themes such as calling, conflict, boredom, or money appear in each curriculum, the workplace examples reflect the likely career options for each group. At the same time we have taken care in the women's course to include biblical examples of strong women who worked in a variety of ways.
Our hope is that you will use or adapt this material for your own group. God is capable of doing great works for and through all people who love him.