Ruth and Parables Curriculum
Small Group Study / Produced by partner of TOW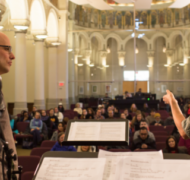 How can a church integrate workplace issues into a normal structure of weekly preaching and small groups? This integrated series can serve as a model. The Ruth series, piloted by Reservoir Church in Cambridge Massachusetts from September through November 2015, is unique in that it goes beyond the entry-level message that "God cares about your work" to dive deep into complex workplace issues such as stress, immigration, hiring, unemployment, and job satisfaction.
The Ruth series was developed by Reservoir Church in partnership with the TOW Project and as a result of participation in a Vocation Infusion Learning Community. Senior Pastor Steve Watson titled the series: "Inspired: The Whole of Life with God in the Picture."
Each week during the Sunday church service the preacher explored a passage in the book of Ruth, and linked his or her work experiences to the passage. Each passage was further illuminated through exploring one of Jesus' parables, again with special attention to workplace applications. Each of these talks was paired with discussion questions for small groups, so that various groups meeting in homes throughout the week could apply the teachings of the sermon to their own work lives.
For each week in this series we have provided sermon audio, sermon notes, small group discussion questions, and the fill-in sheet which congregants received in their service bulletin.