Making Ethical Decisions in a Fallen World
Article / Produced by TOW Project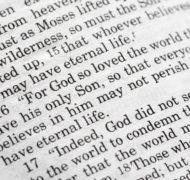 So far we have been talking as if we have the ability to follow God's rules, to seek the outcomes God seeks, to become the kind of characters God wants us to become. But usually we fall far short of that ability. We may not have the power or position to do the right thing. We may lack the courage. We may be tripped up by our own ungodly desires, attitudes, fears, relationships and other factors
Sometimes we lack not only the ability, but even the knowledge needed to do right. It may not be clear what God's rules are when it comes to warfare or bioethics, for example. We may not know which outcome God desires when the alternatives are working as a prostitute or watching your children go hungry. We may not be able to picture the kind of character Jesus wants us to be in a workplace where people seem to be either competent and mean-spirited, or inept and kindly.
In most situations in work and life, we simply can't reach a perfect solution. Often we face a choice not between the better and the best, but between the bad and the worse. Nonetheless, God is still with us. A Christian ethical approach does not condemn us to failure if we cannot attain perfection. Instead, it gives us resources to do the best we can or at least just to do better than we would otherwise. In a corrupt system, there may be little we can do to make a real difference. Even so, the Bible gives us a picture of the way God intends things to be, even if we cannot get there any time soon. This is meant to be a cause for hope, not guilt. God chose to enter human life — in the person of Jesus — in the midst of a corrupt regime. He suffered the worst consequences of it, but emerged victorious by God's grace. We can expect the same as Jesus' followers. "Indeed, God did not send the Son into the world to condemn the world, but in order that the world might be saved through him" (John 3:17).
In the end it all comes down to grace. God's grace may make it clear to us what the right thing is. God's grace may make us able to do what we know is right. Even if we fail, God's grace can forgive us and make it possible for us to try again.
The fallenness of the world is one of the most important reasons we think the character approach is so important. We may not be able to obey all God's rules or desire all the outcomes God desires. But by God's grace, we can practice doing something better today than we did yesterday. If we do nothing but tell the truth once today when we would have lied yesterday, our character has become slightly more like God intends. A lifetime of growing ethically better, bit by bit, makes a real difference.
---
---