Different Approaches to Ethics
Article /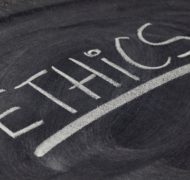 AN OVERVIEW
We need to locate our approach to Christian ethics within an understanding of different approaches to ethics and moral reasoning in general.[5] Most often, three different approaches are identified. These can be simply described as command, consequences and character.[6]
Command Approach
The command approach asks, "Is this action right or wrong in itself, according to the rules?" It is often called the deontological approach (from the Greek deon for duty or rule[7]). It is based on the proposition that actions are inherently right or wrong, as defined by a set of rules or duties. This set of duties/rules may be given by divine command, natural law, rational logic or another source. In Christian ethics, we are interested in commands given by God or logically derived from God's self-revelation in the Bible.
Consequences Approach
The consequences approach asks, "Will this action produce good or bad results?" It is often called the teleological approach (from the Greek telos for end[8]) because it says that end results decide what is the morally correct course of action. The most moral course of action may be decided by:
What will result in the greatest good? One well-known example of the teleological approach is called Utilitarianism,

[9]

which defines the greatest good as whatever will bring the greatest happiness to the greatest number of people.
What advances one's self interest best? For example, the system known as Ethical Egoism

[10]

assumes that the most likely way to achieve what is in the best interests of all people is for each person to pursue their own best interest, within certain limits.
What will produce the ends that are most in accord with God's intent for his creation? This approach can focus on subordinate goals, e.g., gaining a better quality of life for a disabled person, or an ultimate goal, such as glorifying God and enjoying him forever. In the case of complicated circumstances, this approach tries to calculate which actions will maximize the balance of good over evil.
Because neither happiness nor self-interest seem to be the highest results God desires for his creation, neither Utilitarianism nor Ethical Egoism are generally considered Christian forms of ethics. But this does not mean that consequences are not ethically important to God, any more than the fact that there are unbiblical systems of rules means that ethical commands are not important to God.
Character Approach
This approach asks, "Is the actor a good person with good motives?" In this approach, the most moral course of action is decided by questions about character, motives and the recognition that individuals don't act alone because they are also part of communities that shape their characters and attitudes and actions. This is often called virtue ethics.[11] Since the beginning of the Christian era, virtues have been recognized as an essential element of Christian ethics. However, from the time of the Reformation until the late 20th century, virtue ethics — like consequential ethics — was overshadowed by command ethics in most Protestant ethical thinking.
But how do these three different approaches apply to Christian ethics?