Exodus and Work
Bible Commentary / Produced by TOW Project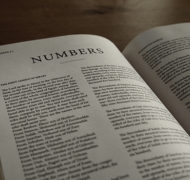 The theology of work does not begin with our understanding of what God wants us to do or even how to do it. It begins with the God who has revealed himself to us as Creator and Redeemer, and who shows us how to follow him by being formed in his character. We do what God wants us to do by becoming more like God. Through reading Exodus, we hear God describe his own character, and we see this particular God actively forming his people. As his people, Christians cannot settle for doing our work according to godly principles unless we apprehend these truths as uniquely rooted in this certain God, who does this particular kind of redemptive work, through the unique person of his Son, by the power of his Holy Spirit. In essence, we learn that God's character is revealed in his work, and his work shapes our work. Following God in our work is thus a major topic in Exodus, even though work is not the primary point of the book.
We find much in Exodus that speaks to everyday work. But these instructions and rules take place in a work context that existed over three thousand years ago. Time has not stood still, and our workplaces have changed. Some passages, such as "You shall not murder" (Exod. 20:13), seem to fit today's context much as they did in Moses' time. Others, such as "If someone's ox hurts the ox of another, so that it dies, then they shall sell the live ox and divide the price of it" (Exod. 21:35), seem less directly applicable to most modern workplaces. How can we honor, obey, and apply God's word in Exodus without falling into the traps of legalism or misapplication?
To answer these questions, we start with the understanding that this book is a narrative. Just as it helped Israel to locate itself in God's story, it helps us to find out how we fit into the fuller expression of the narrative that is our Bible today. The purpose and shape of God's work not only frames our identity as his people, but it also directs the work God has called us to do.