Key Verses and Themes in Matthew
Bible Commentary / Produced by TOW Project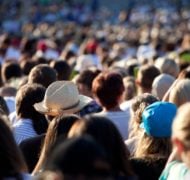 Verse

Theme

Matthew 4:18-22 As he walked by the Sea of Galilee, he saw two brothers, Simon, who is called Peter, and Andrew his brother, casting a net into the sea—for they were fishermen. 19And he said to them, "Follow me, and I will make you fish for people." 20Immediately they left their nets and followed him. 21As he went from there, he saw two other brothers, James son of Zebedee and his brother John, in the boat with their father Zebedee, mending their nets, and he called them. 22Immediately they left the boat and their father, and followed him.

Jesus' call upon us is radical and life-changing, but does not necessarily mean a call away from one's work and workplace.

Matthew 5:1-16 When Jesus saw the crowds, he went up the mountain; and after he sat down, his disciples came to him. 2 Then he began to speak, and taught them, saying:

3 "Blessed are the poor in spirit, for theirs is the kingdom of heaven.

4 "Blessed are those who mourn, for they will be comforted.

5 "Blessed are the meek, for they will inherit the earth.

6 "Blessed are those who hunger and thirst for righteousness, for they will be filled.

7 "Blessed are the merciful, for they will receive mercy.

8 "Blessed are the pure in heart, for they will see God.

9 "Blessed are the peacemakers, for they will be called children of God.

10 "Blessed are those who are persecuted for righteousness' sake, for theirs is the kingdom of heaven.

11 "Blessed are you when people revile you and persecute you and utter all kinds of evil against you falsely on my account. 12 Rejoice and be glad, for your reward is great in heaven, for in the same way they persecuted the prophets who were before you.

13 "You are the salt of the earth; but if salt has lost its taste, how can its saltiness be restored? It is no longer good for anything, but is thrown out and trampled under foot.

14 "You are the light of the world. A city built on a hill cannot be hid. 15 No one after lighting a lamp puts it under the bushel basket, but on the lampstand, and it gives light to all in the house. 16 In the same way, let your light shine before others, so that they may see your good works and give glory to your Father in heaven.

These beatitudes are pictures of the kind of kingdom-oriented character that should mark every believer, including in the workplace. The result will at times be persecution, but will be a faithful witness of light in the darkness.

Matthew 5:33-37 "Again, you have heard that it was said to those of ancient times, 'You shall not swear falsely, but carry out the vows you have made to the Lord.' 34But I say to you, Do not swear at all, either by heaven, for it is the throne of God, 35or by the earth, for it is his footstool, or by Jerusalem, for it is the city of the great King. 36And do not swear by your head, for you cannot make one hair white or black. 37Let your word be 'Yes, Yes' or 'No, No'; anything more than this comes from the evil one.

The Christian should be a person whose deeds match his words. This is a virtue that applies to personal as well as work life.

Matthew 6:19-34 "Do not store up for yourselves treasures on earth, where moth and rust consume and where thieves break in and steal;20 but store up for yourselves treasures in heaven, where neither moth nor rust consumes and where thieves do not break in and steal.21 For where your treasure is, there your heart will be also.

22 "The eye is the lamp of the body. So, if your eye is healthy, your whole body will be full of light; 23 but if your eye is unhealthy, your whole body will be full of darkness. If then the light in you is darkness, how great is the darkness!

24 "No one can serve two masters; for a slave will either hate the one and love the other, or be devoted to the one and despise the other. You cannot serve God and wealth.

25 "Therefore I tell you, do not worry about your life, what you will eat or what you will drink, or about your body, what you will wear. Is not life more than food, and the body more than clothing? 26 Look at the birds of the air; they neither sow nor reap nor gather into barns, and yet your heavenly Father feeds them. Are you not of more value than they? 27 And can any of you by worrying add a single hour to your span of life?28 And why do you worry about clothing? Consider the lilies of the field, how they grow; they neither toil nor spin, 29 yet I tell you, even Solomon in all his glory was not clothed like one of these. 30 But if God so clothes the grass of the field, which is alive today and tomorrow is thrown into the oven, will he not much more clothe you—you of little faith? 31 Therefore do not worry, saying, 'What will we eat?' or 'What will we drink?' or 'What will we wear?' 32 For it is the Gentiles who strive for all these things; and indeed your heavenly Father knows that you need all these things. 33 But strive first for the kingdom of God and his righteousness, and all these things will be given to you as well.

34 "So do not worry about tomorrow, for tomorrow will bring worries of its own. Today's trouble is enough for today."

The Christian is one who treasures rightly God's coming kingdom over the money and possessions of this world. In all our work, we must keep God's coming kingdom and his ways as our central motivation.

Matthew 8:18-22 Now when Jesus saw great crowds around him, he gave orders to go over to the other side. 19A scribe then approached and said, "Teacher, I will follow you wherever you go." 20And Jesus said to him, "Foxes have holes, and birds of the air have nests; but the Son of Man has nowhere to lay his head." 21Another of his disciples said to him, "Lord, first let me go and bury my father." 22But Jesus said to him, "Follow me, and let the dead bury their own dead."

Matthew 9:9 As Jesus was walking along, he saw a man called Matthew sitting at the tax booth; and he said to him, "Follow me." And he got up and followed him.

Matthew 9:37-38 Then he said to his disciples, "The harvest is plentiful, but the laborers are few; 38 therefore ask the Lord of the harvest to send out laborers into his harvest."

Jesus' call to discipleship may at times require a change of occupation and a radical disruption to life.

Matthew 10:5-15 These twelve Jesus sent out with the following instructions: "Go nowhere among the Gentiles, and enter no town of the Samaritans, 6but go rather to the lost sheep of the house of Israel. 7As you go, proclaim the good news, 'The kingdom of heaven has come near.' 8Cure the sick, raise the dead, cleanse the lepers, cast out demons. You received without payment; give without payment. 9Take no gold, or silver, or copper in your belts, 10no bag for your journey, or two tunics, or sandals, or a staff; for laborers deserve their food. 11Whatever town or village you enter, find out who in it is worthy, and stay there until you leave. 12As you enter the house, greet it. 13If the house is worthy, let your peace come upon it; but if it is not worthy, let your peace return to you. 14If anyone will not welcome you or listen to your words, shake off the dust from your feet as you leave that house or town. 15Truly I tell you, it will be more tolerable for the land of Sodom and Gomorrah on the day of judgment than for that town."

The Christian's relationship to money is a precarious one in which he or she must be careful to remember that in work all that is earned is a gift from God.

Matthew 17:24-27 When they reached Capernaum, the collectors of the temple tax came to Peter and said, "Does your teacher not pay the temple tax?" 25He said, "Yes, he does." And when he came home, Jesus spoke of it first, asking, "What do you think, Simon? From whom do kings of the earth take toll or tribute? From their children or from others?" 26When Peter said, "From others," Jesus said to him, "Then the children are free. 27However, so that we do not give offense to them, go to the sea and cast a hook; take the first fish that comes up; and when you open its mouth, you will find a coin; take that and give it to them for you and me."

The Christian lives a life of dual citizenship. Allegiance is due only to God, but we must also shine as lights in this dark world by living according to its rules (when possible) in work, money, and taxes, so as to not cause offense.

Matthew 19:16-30 Then someone came to him and said, "Teacher, what good deed must I do to have eternal life?"17And he said to him, "Why do you ask me about what is good? There is only one who is good. If you wish to enter into life, keep the commandments."18He said to him, "Which ones?" And Jesus said, "You shall not murder; You shall not commit adultery; You shall not steal; You shall not bear false witness;19Honor your father and mother; also, You shall love your neighbor as yourself." 20The young man said to him, "I have kept all these; what do I still lack?" 21Jesus said to him, "If you wish to be perfect, go, sell your possessions, and give the money to the poor, and you will have treasure in heaven; then come, follow me." 22When the young man heard this word, he went away grieving, for he had many possessions.

23Then Jesus said to his disciples, "Truly I tell you, it will be hard for a rich person to enter the kingdom of heaven. 24Again I tell you, it is easier for a camel to go through the eye of a needle than for someone who is rich to enter the kingdom of God." 25When the disciples heard this, they were greatly astounded and said, "Then who can be saved?" 26But Jesus looked at them and said, "For mortals it is impossible, but for God all things are possible."

27Then Peter said in reply, "Look, we have left everything and followed you. What then will we have?" 28Jesus said to them, "Truly I tell you, at the renewal of all things, when the Son of Man is seated on the throne of his glory, you who have followed me will also sit on twelve thrones, judging the twelve tribes of Israel. 29And everyone who has left houses or brothers or sisters or father or mother or children or fields, for my name's sake, will receive a hundredfold, and will inherit eternal life. 30But many who are first will be last, and the last will be first."

Riches in this world can indeed make it difficult to enter the kingdom of God. The issue is what we treasure most in hearts, whether it be our work and possessions or God's kingdom and king.

Matthew 20:1-16 "For the kingdom of heaven is like a landowner who went out early in the morning to hire laborers for his vineyard. 2After agreeing with the laborers for the usual daily wage, he sent them into his vineyard. 3When he went out about nine o'clock, he saw others standing idle in the marketplace; 4and he said to them, 'You also go into the vineyard, and I will pay you whatever is right.' So they went. 5When he went out again about noon and about three o'clock, he did the same. 6And about five o'clock he went out and found others standing around; and he said to them, 'Why are you standing here idle all day?' 7They said to him, 'Because no one has hired us.' He said to them, 'You also go into the vineyard.' 8When evening came, the owner of the vineyard said to his manager, 'Call the laborers and give them their pay, beginning with the last and then going to the first.' 9When those hired about five o'clock came, each of them received the usual daily wage. 10Now when the first came, they thought they would receive more; but each of them also received the usual daily wage. 11And when they received it, they grumbled against the landowner, 12saying, 'These last worked only one hour, and you have made them equal to us who have borne the burden of the day and the scorching heat.' 13But he replied to one of them, 'Friend, I am doing you no wrong; did you not agree with me for the usual daily wage? 14Take what belongs to you and go; I choose to give to this last the same as I give to you. 15Am I not allowed to do what I choose with what belongs to me? Or are you envious because I am generous?'16So the last will be first, and the first will be last."

This parable models the Christian virtue of humble faith in God's grace—not grumbling against God's grace toward others nor being self-congratulatory.

Matthew 20:20-28 Then the mother of the sons of Zebedee came to him with her sons, and kneeling before him, she asked a favor of him. 21And he said to her, "What do you want?" She said to him, "Declare that these two sons of mine will sit, one at your right hand and one at your left, in your kingdom." 22But Jesus answered, "You do not know what you are asking. Are you able to drink the cup that I am about to drink?" They said to him, "We are able." 23He said to them, "You will indeed drink my cup, but to sit at my right hand and at my left, this is not mine to grant, but it is for those for whom it has been prepared by my Father." 24When the ten heard it, they were angry with the two brothers. 25But Jesus called them to him and said, "You know that the rulers of the Gentiles lord it over them, and their great ones are tyrants over them. 26It will not be so among you; but whoever wishes to be great among you must be your servant, 27and whoever wishes to be first among you must be your slave; 28just as the Son of Man came not to be served but to serve, and to give his life a ransom for many."

True leadership is not self-promoting nor does it come from greatness in the world's eyes. True leadership is service and care for others.

Matthew 21:33-41 "Listen to another parable. There was a landowner who planted a vineyard, put a fence around it, dug a wine press in it, and built a watchtower. Then he leased it to tenants and went to another country. 34When the harvest time had come, he sent his slaves to the tenants to collect his produce. 35But the tenants seized his slaves and beat one, killed another, and stoned another. 36Again he sent other slaves, more than the first; and they treated them in the same way. 37Finally he sent his son to them, saying, 'They will respect my son.' 38But when the tenants saw the son, they said to themselves, 'This is the heir; come, let us kill him and get his inheritance.' 39So they seized him, threw him out of the vineyard, and killed him. 40Now when the owner of the vineyard comes, what will he do to those tenants?" 41They said to him, "He will put those wretches to a miserable death, and lease the vineyard to other tenants who will give him the produce at the harvest time."

Matthew 24:45-51 "Who then is the faithful and wise slave, whom his master has put in charge of his household, to give the other slaves their allowance of food at the proper time? 46Blessed is that slave whom his master will find at work when he arrives. 47Truly I tell you, he will put that one in charge of all his possessions. 48But if that wicked slave says to himself, 'My master is delayed,' 49and he begins to beat his fellow slaves, and eats and drinks with drunkards, 50the master of that slave will come on a day when he does not expect him and at an hour that he does not know. 51He will cut him in pieces and put him with the hypocrites, where there will be weeping and gnashing of teeth."

Matthew 25:1-13 "Then the kingdom of heaven will be like this. Ten bridesmaids took their lamps and went to meet the bridegroom. 2Five of them were foolish, and five were wise. 3When the foolish took their lamps, they took no oil with them; 4but the wise took flasks of oil with their lamps. 5As the bridegroom was delayed, all of them became drowsy and slept. 6But at midnight there was a shout, 'Look! Here is the bridegroom! Come out to meet him.' 7Then all those bridesmaids got up and trimmed their lamps. 8The foolish said to the wise, 'Give us some of your oil, for our lamps are going out.' 9But the wise replied, 'No! There will not be enough for you and for us; you had better go to the dealers and buy some for yourselves.' 10And while they went to buy it, the bridegroom came, and those who were ready went with him into the wedding banquet; and the door was shut. 11Later the other bridesmaids came also, saying, 'Lord, lord, open to us.' 12But he replied, 'Truly I tell you, I do not know you.' 13Keep awake therefore, for you know neither the day nor the hour."

Matthew 25:14-30 "For it is as if a man, going on a journey, summoned his slaves and entrusted his property to them; 15to one he gave five talents, to another two, to another one, to each according to his ability. Then he went away. 16The one who had received the five talents went off at once and traded with them, and made five more talents. 17In the same way, the one who had the two talents made two more talents. 18But the one who had received the one talent went off and dug a hole in the ground and hid his master's money. 19After a long time the master of those slaves came and settled accounts with them. 20Then the one who had received the five talents came forward, bringing five more talents, saying, 'Master, you handed over to me five talents; see, I have made five more talents.' 21His master said to him, 'Well done, good and trustworthy slave; you have been trustworthy in a few things, I will put you in charge of many things; enter into the joy of your master.' 22And the one with the two talents also came forward, saying, 'Master, you handed over to me two talents; see, I have made two more talents.' 23His master said to him, 'Well done, good and trustworthy slave; you have been trustworthy in a few things, I will put you in charge of many things; enter into the joy of your master.' 24Then the one who had received the one talent also came forward, saying, 'Master, I knew that you were a harsh man, reaping where you did not sow, and gathering where you did not scatter seed; 25so I was afraid, and I went and hid your talent in the ground. Here you have what is yours.' 26But his master replied, 'You wicked and lazy slave! You knew, did you, that I reap where I did not sow, and gather where I did not scatter? 27Then you ought to have invested my money with the bankers, and on my return I would have received what was my own with interest. 28So take the talent from him, and give it to the one with the ten talents. 29For to all those who have, more will be given, and they will have an abundance; but from those who have nothing, even what they have will be taken away. 30As for this worthless slave, throw him into the outer darkness, where there will be weeping and gnashing of teeth.'"

In every aspect of our lives, including our work, our character should be marked by faithfulness and trustworthiness. This means living and working in such a way that our lives reflect hope in God's coming kingdom.
---
---