Do to Others as You Would Have Them Do to You: The Golden Rule (Matthew 7:12)
Bible Commentary / Produced by TOW Project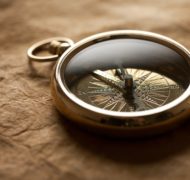 "In everything do to others as you would have them do to you; for this is the law and the prophets" (Matt. 7:12). This brings us back to true righteousness, the mending and sustaining of right relationships on the job as well as elsewhere. If we have time for only one question before making a decision taking action, the best one may be, "Is this how I would want it to be done to me?"
---
---
Bookstore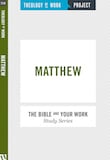 Explore what Matthew says about the kingdom of God and your work. The lessons in each chapter are great for small group or individual study. Lessons include scripture references, reflections questions and prayer.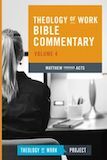 What does the Bible have to say about work? This one-of-a-kind Bible resource answers that very question.
If you like reading the Theology of Work Bible Commentary free online, you might enjoy it in print!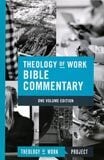 The Theology of Work Bible Commentary is an in-depth Bible study tool put together by a group of biblical scholars, pastors, and workplace Christians to help you discover what the whole Bible--from Genesis to Revelation--says about work. Business, education, law, service industries, medicine, government--wherever you work, in whatever capacity, the Scriptures have something to say about it. This edition is a one-volume hardcover version.
Copyright
Contributors: Jonathan Pennington and Alice Mathews
Adopted by the Theology of Work Project Board July 6, 2011. Revised Nov. 4, 2011. Image by Used under license from Veer . Used by permission.
Author: Theology of Work Project
Theology of Work Project Online Materials by Theology of Work Project, Inc. is licensed under a Creative Commons Attribution-NonCommercial 4.0 International License. Based on a work at www.theologyofwork.org
You are free to share (to copy, distribute and transmit the work), and remix (to adapt the work) for non-commercial use only, under the condition that you must attribute the work to the Theology of Work Project, Inc., but not in any way that suggests that it endorses you or your use of the work.
© 2011 by the Theology of Work Project, Inc.
Unless otherwise noted, the Scripture quotations contained herein are from the New Revised Standard Version Bible, Copyright © 1989, Division of Christian Education of the National Council of the Churches of Christ in the U.S.A., and are used by permission. All rights reserved.