My Yoke Is Easy (Matthew 11:28-30)
Bible Commentary / Produced by TOW Project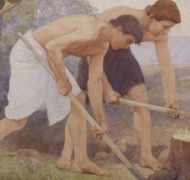 As we walk through Matthew's Gospel, we see that opposition to Jesus—his message and his actions—is increasing. It culminates in Matthew 12:14 with the religious leaders' decision to stop him, even if it means killing him. This foreshadows and sets in motion the end to which the whole narrative is pointing: Jesus' crucifixion in Jerusalem. Knowing what lies ahead of him, Jesus nevertheless tells his followers,
Come to me, all you that are weary and are carrying heavy burdens, and I will give you rest. Take my yoke upon you, and learn from me; for I am gentle and humble in heart, and you will find rest for your souls. For my yoke is easy, and my burden is light. (Matt. 11:28-30)
If we do our work in yoke with him, we will find fulfillment and experience good relationships with God and people.[1] When God gave work to Adam in the Garden of Eden, the work was easy and the burden light under God's authority. When the human pair rebelled against their Maker, the character of work changed to hard labor against thorns and thistles (Genesis 3). Jesus invites us to work in yoke with him with the promise of rest for our souls. (For more on working in yoke with Christ, see "2 Corinthians 6:14-18" in 2 Corinthians and Work at www.theologyofwork.org.)
For an application of this passage, see "Change Tactics as You Grow" at Country Supply Study Guide by clicking here.
---
---