The Dangers of Prosperity (Deuteronomy 8:11-20)
Bible Commentary / Produced by TOW Project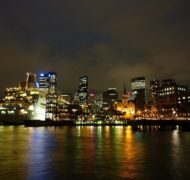 In contrast to joyful obedience to God is the arrogance that often accompanies prosperity. This is similar to the danger of complacency that Moses warns about in Deuteronomy 4:25-40, but with a focus on active pride rather than passive entitlement.
When you have eaten your fill and have built fine houses and live in them, and when your herds and flocks have multiplied, and your silver and gold is multiplied, and all that you have is multiplied, then do not exalt yourself, forgetting the Lord your God, who brought you out of the land of Egypt, out of the house of slavery. (Deut. 8:12-14)
When, after many years of sweat equity, a person sees a business, career, research project, child raising, or other work become a success, he or she will have a justifiable sense of pride. But we can allow joyful pride to slip into arrogance. Deuteronomy 8:17- 18 reminds us, "Do not say to yourself, 'My power and the might of my own hand have gotten me this wealth.' But remember the Lord your God, for it is he who gives you power to get wealth, so that he may confirm his covenant that he swore to your ancestors, as he is doing today." As part of his covenant with his people, God gives us the ability to engage in economic production. We need to remember, however, that it is a gift of God. When we attribute our success entirely to our abilities and effort, we forget that God gave us those abilities as well as life itself. We are not self-created. The illusion of self-sufficiency makes us hard-hearted. As always, the proper worship and awareness of dependence on God provides the antidote (Deut. 8:18).
---
---