Holiness Code (Leviticus 17-27)
Bible Commentary / Produced by TOW Project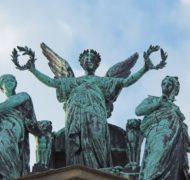 Some of the instructions in the holiness code seem relevant only in Israel's ancient world, while others seem timeless. On the one hand, Leviticus tells men not to mar the edges of their beards (Lev. 19:27), but on the other hand, judges must not render unfair judgments in court but show justice to all (Lev. 19:15). How do we know which ones apply directly today? Mary Douglas helpfully explains how a clear understanding of holiness as moral order both grounds these instructions in God and makes sense of their variety.
Developing the idea of holiness as order, not confusion, upholds rectitude and straight-dealing as holy, and contradiction and double-dealing as against holiness. Theft, lying, false witness, cheating in weights and measures, all kinds of dissembling such as speaking ill of the deaf (and presumably smiling to their faces), hating your brother in your heart (while presumably speaking kindly to him), these are clearly contradictions between what seems and what is.[1]
Some aspects of what leads to good order (e.g., the trimming of beards) may be important in one context but not in another. Others are essential in all situations. We can sort them out by asking what contributes to good order in our particular contexts. Here we shall explore passages that touch directly on matters of work and economics.