Parables of the Kingdom (Matthew 13)
Bible Commentary / Produced by TOW Project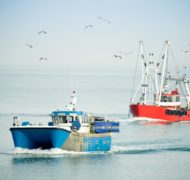 Beginning in chapter 13, in the face of opposition, Jesus' teaching style changes. Instead of proclaiming the kingdom clearly, he begins to speak in parables that are meaningful to believers but incomprehensible to unbelievers. Most of these brief stories are about workers: a sower planting a field (Matt. 13:3-9); a woman kneading yeast into bread (Matt. 13:33); a treasure-hunter (Matt. 13:44); a pearl merchant (Matt. 13:45-46); some fishermen (Matt. 13:47-50); and a householder (Matt. 13:52). For the most part, these are not stories about the work they depict. Jesus does not tell us how to properly sow a field, how to bake bread, or how to invest in commodities. Instead, Jesus uses material objects and human labor as elements of stories that give us insight into God's kingdom. Our work is capable of bearing meaning, even in illustrating eternal realities. This reminds us that we and the world around us spring from God's creation and remain parts of God's kingdom.
---
---
Bookstore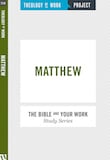 Explore what Matthew says about the kingdom of God and your work. The lessons in each chapter are great for small group or individual study. Lessons include scripture references, reflections questions and prayer.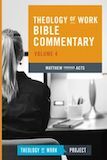 What does the Bible have to say about work? This one-of-a-kind Bible resource answers that very question.
If you like reading the Theology of Work Bible Commentary free online, you might enjoy it in print!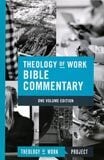 The Theology of Work Bible Commentary is an in-depth Bible study tool put together by a group of biblical scholars, pastors, and workplace Christians to help you discover what the whole Bible--from Genesis to Revelation--says about work. Business, education, law, service industries, medicine, government--wherever you work, in whatever capacity, the Scriptures have something to say about it. This edition is a one-volume hardcover version.
Copyright
Contributors: Jonathan Pennington and Alice Mathews
Adopted by the Theology of Work Project Board July 6, 2011. Revised Nov. 4, 2011. Image by Used under license from Veer . Used by permission.
Author: Theology of Work Project
Theology of Work Project Online Materials by Theology of Work Project, Inc. is licensed under a Creative Commons Attribution-NonCommercial 4.0 International License. Based on a work at www.theologyofwork.org
You are free to share (to copy, distribute and transmit the work), and remix (to adapt the work) for non-commercial use only, under the condition that you must attribute the work to the Theology of Work Project, Inc., but not in any way that suggests that it endorses you or your use of the work.
© 2011 by the Theology of Work Project, Inc.
Unless otherwise noted, the Scripture quotations contained herein are from the New Revised Standard Version Bible, Copyright © 1989, Division of Christian Education of the National Council of the Churches of Christ in the U.S.A., and are used by permission. All rights reserved.