"You Shall Not Covet … Anything That Belongs to Your Neighbor" (Exodus 20:17)
Bible Commentary / Produced by TOW Project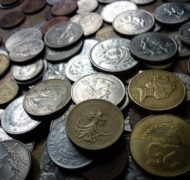 Envy and acquisitiveness can arise anywhere in life, including at work where status, pay, and power are routine factors in our relationships with people we spend a lot of time with. We may have many good reasons to desire achievement, advancement, or reward at work. But envy isn't one of them. Nor is working obsessively out of envy for the social standing it may enable.
In particular, we face temptation at work to falsely inflate our accomplishments at the expense of others. The antidote is simple, although hard to do at times. Make it a consistent practice to recognize the accomplishments of others and give them all the credit they deserve. If we can learn to rejoice in—or at least acknowledge—others' successes, then we cut off the lifeblood of envy and covetousness at work. Even better, if we can learn how to work so that our success goes hand-in-hand with others' success, covetousness is replaced by collaboration and envy by unity.
Leith Anderson, former pastor of Wooddale Church in Eden Prairie, Minnesota, says, "As the senior pastor, it's as if I have an unlimited supply of coins in my pocket. Whenever I give credit to a staff member for a good idea, praise a volunteer's work, or thank someone, it's like I'm slipping a coin from my pocket into theirs. That's my job as the leader, to slip coins from my pocket to others' pockets, to build up the appreciation other people have for them."[1]
See "From an Attitude of Discontentment to Contentment" in Provision and Wealth Overview at www.theologyofwork.org.
---
---