God's Work of Redemption for Israel (Exodus 5:1-6:28)
Bible Commentary / Produced by TOW Project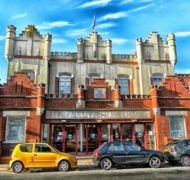 In the book of Exodus, God is the essential worker. The nature and intent of that divine work set the agenda for Moses' work and through him, the work of God's people. God's initial call to Moses included an explanation of God's work. This drove Moses to speak in the name of the Lord to Pharaoh saying, "Let my people go" (Exod. 5:1). Pharaoh's rebuttal was not merely verbal; he oppressed the Israelites more harshly than before. By the end of this episode, even the Israelites themselves had turned against Moses (Exod. 5:20-21). It is at this crucial point that in response to Moses' questioning God about the entire enterprise, God clarified the design of his work. What we read here in Exodus 6:2-8 pertains not only to the immediate context of Israel's oppression in Egypt. It frames an agenda that embraces all of God's work in the Bible.[1] It is important for all Christians to be clear about the scope of God's work, because it helps us to understand what it means to pray for God's kingdom to come and for his will to be done on earth as it is in heaven (Matt. 6:10). The fulfillment of these intentions is God's business. To accomplish them, he will involve the full range of his people, not merely those who do "religious" work. Coming to a clearer understanding of God's work equips us to consider better not only the nature of our work but the manner in which God intends for us to do it.
In order to better appreciate this key text, we will make some brief observations about it and then suggest how it is relevant to the theology of work. After an initially assuring response to Moses' accusatory question about God's mission (Exod. 5:22-6:1), God frames his more extended response with the words "I am the Lord" at the beginning and the end (Exod. 6:2, 8). This key phrase demarcates the paragraph and gives the content especially high priority. English readers must be careful to note that this phrase does not communicate what God is in terms of a title. It reveals God's own name and therefore speaks to who he is.[2] He is the covenant-making, promise-keeping God who appeared to the patriarchs. The work God is about to do for his people is therefore grounded in the intentions that God has expressed to them. Namely, these are to multiply Abraham's descendants, to make his name great, and to bless him so that through Abraham, God would bless all the families of the earth (Gen. 12:2-3).
God's work then appears in four parts. These four redemptive purposes of God reappear in various ways throughout the Old Testament and even give shape to the pinnacle of God's redemptive work in Jesus Christ. First is the work of deliverance. "I will free you from the burdens of the Egyptians and deliver you from slavery to them. I will redeem you with an outstretched arm and with mighty acts of judgment" (Exod. 6:6). Inherent in this work of liberation is the frank truth that the world is a place of manifold oppression. Sometimes we use the word salvation to describe this activity of God, but we must be careful to avoid understanding it either in terms of rescue from earth to heaven (and certainly not from matter to spirit) or as merely forgiveness of sin. The God of Israel delivered his people by stepping into their world and effecting a change "on the ground," so to speak. Exodus not only shows God's deliverance of Israel from Pharaoh in Egypt, but it also sets the stage for the messianic king, Jesus, to deliver his people from their sins and conquer the devil, the ultimate evil tyrant (Matt. 1:21; 12:28).
Second, the Lord will form a godly community. "I will take you as my people, and I will be your God" (Exod. 6:7a). God did not deliver his people so they could live however they pleased, nor did he deliver them as isolated individuals. He intended to create a qualitatively different kind of community in which his people would live with him and one another in covenantal faithfulness. Every nation in ancient times had their "gods," but Israel's identity as God's people entailed a lifestyle of obedience to all of God's decrees, commands, and laws (Deut. 26:17-18). As these values and actions would saturate their dealings with God and each other (and even those outside the covenant), Israel would increasingly demonstrate what it genuinely means to be God's people. Again, this forms the background for Jesus who would build his "church," not as a physical structure of brick or stone, but as a new community with disciples from all nations (Matt. 16:18; 28:19).
Third, the Lord will create an ongoing relationship between himself and his people. "You shall know that I am the Lord your God, who has freed you from the burdens of the Egyptians" (Exod. 6:7b). All of the other statements of God's purpose begin with the word I except this one. Here, the focus is on you. God intends his people to have a certain experience of their relationship with God who graciously rescued them. To us, knowledge seems practically equivalent to information. The biblical concept of knowledge embraces this notion, but it also includes interpersonal experience of knowing others. To say that God did not make himself "known" as "Lord" to Abraham does not mean that Abraham was unaware of the divine name "YHWH" (Gen. 13:4; 21:33). It means that Abraham and family had not yet personally experienced the significance of this name as descriptive of their promise-keeping God who would fight on behalf of his people to deliver them from slavery on a national scale. [3] Ultimately, this is taken up by Jesus, whose name "Emmanuel" means God "with us" in relationship (Matt. 1:23).
Fourth, God intends for his people to experience the good life. "I will bring you into the land that I swore to give to Abraham, Isaac, and Jacob; I will give it to you for a possession" (Exod. 6:8). God promised to give Abraham the land of Canaan, but it is not accurate to simply equate this "land" with our concept of a "region." It is a land of promise and provision. The regular and positive description of it as "flowing with milk and honey" (Exod. 3:8) highlights its symbolic nature as a place in which to live with God and God's people in ideal conditions, something we understand as the "abundant life."[4] Here again we see that God's work of salvation is a setting to right of his entire creation—physical environment, people, culture, economics, everything. This is also the mission of Jesus as he initiates the kingdom of God coming to earth, where the meek inherit the earth (the land) and experience eternal life (Matt. 5:5; John 17:3).[5] This comes to completion in the New Jerusalem of Revelation 21 and 22. Exodus thus sets the path for the entirety of the Bible that follows.
Consider how our work today may express these four redemptive purposes. First, God's will is to deliver people from oppression and the harmful conditions of life. Some of that work rescues people from physical dangers; other work focuses on the alleviation of psychological and emotional trauma. The work of healing touches people one by one; those who forge political solutions to our needs can bless whole societies and classes of people. Workers in law enforcement and in the judicial system should aim to restrain and punish those who do evil, to protect people, and to care for victims. Given the pervasive extent of oppression in the world, there will always be manifold opportunities and means to work for deliverance.
The second and third purposes (community and relationship) are closely related to each other. Godly work that promotes peace and true harmony in heaven will enhance mercy and justice on earth. This is the gist of Paul's address to the Corinthians: through Christ, God has reconciled us to himself and thus given us the message and ministry of reconciliation (2 Cor. 5:16-20). Christians have experienced this reconciliation and therefore have motive and means to do this kind of work. The work of evangelism and spiritual development honors one dimension of the area; the work of peace and justice honors the interpersonal dimension. In essence, the two are inseparable and those who work in these fields do well to remember the holistic nature of what God is doing. Jesus taught that because we are the light of the world, we should let our light shine before others (Matt. 5:14–16).
Building community and relationships can be the object of our job, as in the case of community organizers, youth workers, social directors, event planners, social media workers, parents and family members, and many others. But they can also be elements of our job, whatever our occupation. When we welcome and assist new workers, ask and listen as others talk about matters of significance, take the trouble to meet someone in person, send a note of encouragement, share a memorable photo, bring good food to share, include someone in a conversation, or myriad other acts of camaraderie, we are fulfilling these two purposes of work, day by day.
Finally, godly work promotes the good life. God led his people out of Egypt in order to bring them in to the Promised Land where they could settle, live, and develop. Yet, what Israel experienced there was far less than God's ideal. Likewise, what Christians experience in the world is not ideal either. The promise of entering God's rest is still open (Heb. 4:1). We still wait for a new heaven and a new earth. But many of the laws of the covenant that God gave through Moses have to do with ethical treatment of one another. It is vital, then, that God's blessing be worked out in the way we live and work with one another. Seen from the negative side, how can we reasonably expect all families of the earth to experience God's blessing through us (the people of Abraham through faith in Christ), if we ourselves ignore God's instructions about how to live and do our work? As Christopher Wright has noted, "The people of God in both testaments are called to be a light to the nations. But there can be no light to the nations that is not shining already in transformed lives of a holy people."[6] It thus becomes clear that the kind of "good life" in view here has nothing to do with unbridled selfish prosperity or conspicuous consumption, for it embraces the wide spectrum of life as God intends it to be: full of love, justice, and mercy.
---
---