Let Us Pray for the World of Technology and Scientific Research (Prayer)
Prayer / Produced by partner of TOW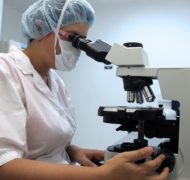 Let us pray for the world of technology and scientific research.
Lord, you have endowed human beings with the ability to search out your laws
and have given them the freedom to apply their knowledge as they choose.
We ask your blessing on all engaged in scientific research and technology
and on those who provide the resources for such work;
that choice may be made of projects
which both enhance human life and have regard to the safety and well-being of the natural order.
May we thus be true stewards of your bounty,
to our own inner satisfaction and your greater glory.
Amen.
(David Welbourn)
---
---