O Lord Jesus Christ, Through Your Work as a Carpenter You Shared the Stress of Daily Life (Prayer)
Prayer / Produced by partner of TOW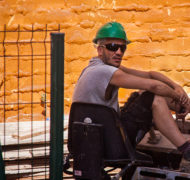 God has made the earth fruitful and fertile
Rich in minerals and natural energy.
God makes plants grow for us to harvest,
Producing enough food for all to be fed.
God gives us wisdom and insight
To discover the secrets of the atom and the gene.
We are able to design ingenious inventions
Which can transform people's lives.
We receive all God's gifts with thanksgiving
And offer our work to God's glory.
O Lord Jesus Christ
who through your work as a carpenter
shared the stress of daily life
and knew its satisfactions and frustrations,
strengthen us in our work
that whatever we do, we may do it wholeheartedly
to the glory of your name. Amen.
Almighty God, who has made us
so that each of us is dependent on the work of many others,
we pray for those with whom we work,
for those who find it hard to do their work,
that they may have strength.
for those who are worried about their work,
that they may have peace,
for those who are difficult to work with,
that we and they may have patience,
that we may work together
in the spirit of Jesus Christ our Lord. Amen.
(c.Christine Allen, David Durston, Chris Powell and Wendy S Robins, SUNDAY, MONEY Resources Book, Cassell and Scripture Union, 1995)
---
---