Thank You for the Chance to Share in Creation Through The Work of Hand and Brain (Prayer)
Prayer / Produced by partner of TOW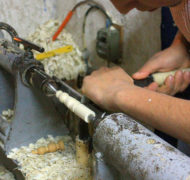 Lord of the Universe, we praise you for your creation, for the wonders of space, the beauty of the world, the value of the earth's resources, and the skills of hand and brain which enrich our lives.
We thank you for humanity in all its diversity, for the unique individuality of every child, woman and man, for the gathered communities of home, work and leisure; of village, city and nation.
We thank you for offering us the chance to share in creation through the work of hand and brain; for the opportunity to plan and design, to manufacture and grow, to service and conserve, and to care for one another in the places where we work.
We thank you for giving us special gifts and responsibilities, for enabling us to stand upright and make choices, for presenting us with opportunities to promote justice and truth.
And because he shared with us our humanity and our world, we thank you for the gift of your Son Jesus Christ, our beginning and our end, who carried out your work to your praise and glory and for the renewal of your creation. So we make our prayer to you in his name, who died and rose again for us. Amen
---
---