We Pray for All Who Work at Sea (Prayer)
Prayer / Produced by partner of TOW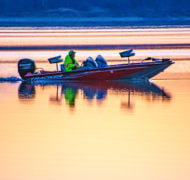 We pray
For all who work at sea;
For all those who give service to the Royal National Lifeboat Institute, and its work;
For Naval Chaplains, and Missions to Seamen chaplains;
For those sailing under flags of convenience;
For those working on the cross-channel ferries, and the ferries in Scotland;
For those working to bring us food: fishermen and fish farmers;
For those drilling for oil and natural gas;
For all divers.
We remember that all these face difficulty and danger.
We give thanks for their knowledge of the sea, their courage on putting out into the deep, their patience and their skill.
We pray:
For all those who cause pollution or environmental or ecological damage through negligence, carelessness, greed or accident, remembering that as we benefit from their harvest, so we share the responsibility for its side-effects.
For those anxious about over-fishing and those trying to protect whales and dolphins;
For those who have lost their boats or their jobs because of problems in the fishing and shipbuilding industries;
For those whose hobby is angling, sailing or boating.
We give thanks:
For the work of the National Rivers Authority;
For the beauty of our waterways and coasts;
For time for recreation.
We pray for those without clean water or with no water supply at all.
We remember the women whose back-breaking task it is to fetch water.
We pray for those facing drought, especially in Sub-Saharan Africa.
We pray for those whose homes or work places or fields have been destroyed by floods.
We remember the poverty that forces people to live on marginal land.
We pray for those who are sick or dying because of dirty water.
We give thanks for those who work in the water industry, who deal with sewage, who supply us with clean water - the technicians, engineers, pipelayers... all those who work for [Anglian Water - or name other area water authority.]
We give thanks for those who monitor the cleanliness of our beaches.
We remember all those who have died at sea.
We remember our own death and resurrection in the waters of baptism.
(From 'Work in Worship', Peterborough Diocese People and Work Programme)
---
---