Chapter 10: Growing Through the Stages of Life
Book / Produced by Individual TOW Project member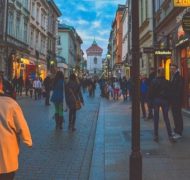 Time is a dressmaker specialising in alterations. –Faith Baldwin
"What do you want to be when you grow up?"
According to Paula Poundstone, adults are always asking little kids this question. (She reckons it's because they're looking for ideas!) But have you noticed a curiosity about the enquiry and its answers? "I want to be a fireman/policewoman/teacher…" In our western culture it's all about what we want to do rather than who we want to become.
So just exactly when did we become "grown-up"? Was it at some pre-ordained age? Maybe 21, or 18? Or is maturity more complex and variable than simply sticking a label on us at a certain birthday and calling us "adult"?
For many years it was taken for granted that human development went through the four stages of infancy, childhood, adolescence and finally adulthood. The last one was supposedly a stable state. Once we got to it … that's who we were. However, since the latter half of the twentieth century there has been a growing awareness that adulthood itself comprises a number of steps toward greater maturity – each one often, though not always, identified with a particular age period. [1] Much research has focused on trying to understand these different stages and the transitions that accompany them.
Life, of course, is a rich tapestry that cannot easily be divided into neatly categorised sections. People are all so very different in their development. Some mature more quickly than others, gender and cultural differences influence the pace, as do changes within a culture from one generation to another. For example, Gail Sheehy suggests that the crises usually met at age forty in the 1960s and 1970s now seem to be experienced at age fifty in the new millennium.[2]
The point remains, however, that there are a number of predictable development issues which come along in most people's lives. While it's true that there are variations between men and women, and from one culture to another – so that we may meet these issues in different ways and at slightly different ages – nevertheless meet them we all will. Life is definitely not static once we attain adulthood.
These stages of growth and development can change our lives in unexpected ways. As a result, they can have a dramatic impact on our sense of identity … and therefore on our SoulPurpose.
Who am I?
There are three major transitions in life when identity issues are up for grabs. During these times our SoulPurpose, and with it our career and life-planning decisions, come into sharp relief.
The first is the transition that occurs during adolescence and early adulthood, when we are concerned with entering the workforce.
The second is at midlife when we tend to take stock of our lives. We become aware, slowly or suddenly, that we no longer have time to do all the things we want to. The urgency of passing time causes us to examine which of our goals are really important to us.
The third is at what used to be called retirement, but is now often referred to as the third age. Because people are living longer, this transition can involve making new choices that may include a mixture of paid and unpaid work.
Let's look at each of these three critical life stages and consider how they affect our identity, and with it our SoulPurpose.