Chapter 2: Finding Where We Fit: Finding God's Will and Plan For My Life
Book / Produced by Individual TOW Project member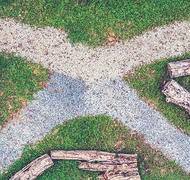 The place God calls you is the place where your deep gladness and the world's deep hunger meet. (Frederick Buechner)
God has plans for us. God has made us for a purpose. We have a calling. We have a SoulPurpose.
But just where do we fit into God's purposes? What does God want us to do? – the question that consumes the energy of those who want to make their lives count for God. This one great problem for Christians has generated endless seminars, books and sermons. "Are you in the centre of God's will?" "Five easy steps to finding God's will." "Discover your spiritual gift." We've almost made an industry of guidance!
Of course, the drive for purpose and significance is a basic instinct amongst humans. So as Christians we have no trouble believing that God wants to use us for his purposes. We are special. We are unique. We are deeply loved by God. We are called. Therefore he has a purpose for our lives.
So we are right to look for direction and purpose. The question is – are we asking the right questions and are we looking in the right place?