Stages of Faith
Book / Produced by Individual TOW Project member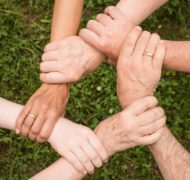 Not only do we develop physically, mentally, emotionally and socially through different stages of our lives, but we also grow spiritually. So it's important to reflect on how our faith develops through the years, for this is a major factor in growing a SoulPurpose.
For many years Sunday School teachers and youth leaders have known about the development of faith from childhood through adolescence and on into early adulthood. However, only in more recent years has serious research been done exploring ways in which faith continues to change through our adult years. At the forefront of this research has been James Fowler – a sociologist of religion.
Fowler suggests that as faith develops, changes occur in the following areas:
(1) the way people think;
(2) their ability to see another's point of view;
(3) the way they arrive at moral judgements;
(4) the way and extent to which they draw boundaries around their faith community;
(5) the way they relate to external authorities and their truth-claims;
(6) the way they form their world view;
(7) the way they understand and respond to symbols.
Fowler's research has led him to conclude that there are six stages of faith. However, there is an acknowledgment that not every person will grow through every stage. Furthermore, people mature at different rates and at different stages of life.
Fowler's stages of faith have been summarised in the following way: [1]
Stage One: The Innocent. This is found in pre-school children whose faith is derived largely from their family experience and shaped by the talk that goes on around them, the stories that are told and the rituals and symbols that are part of their lives. It is a disorganised collage of images that include real and imagined events. Faith here has to do with powerful images and symbols rather than concepts or logical thought.
Stage Two: The Literalist. This can begin as early as six years old. Children at this stage begin to separate fantasy from reality, though they still reason in very literal and concrete terms. To the influence of the family is now added the impact of teachers, school, television, movies and books. Their faith particularly involves identification with the stories of their faith community. They identify strongly with people who are like the significant adults in their life. They are aware of – and often critical of – people who are different.
Adults who remain at this stage prefer a community where a strong, literal interpretation of scripture is encouraged. This stage offers security for the individual and encourages deep conviction and commitment. It emphasises rules and authoritative teaching. The main image of God is that of a stern and just (though loving) parent.
Stage Three: The Loyalist. This stage occurs during adolescence and beyond. It comes at the time when we develop a new self-awareness, as well as the ability to think abstractly. We begin to clarify what we believe. However, we are also highly influenced by the opinions of respected teachers, other students, parents or church leaders. These are the ones to whom we look for guidance and affirmation.
People at this stage find security in belonging to a community of like-minded believers. Their faith is often tenaciously held … but without serious analysis, without the conscious act of "standing outside it" and engaging in an in-depth personal critique of it. Their vision of God is usually as an external transcendent being. They often invest a lot in their faith community and it plays an important role in their lives. Conflict in the community is very threatening to them.
Stage Four: The Critic. At this stage we find ourselves standing to one side and critically reflecting on our faith. We are no longer willing to have second-hand beliefs, merely borrowed from influential people. Faith is personally owned. This can be a difficult and lonely stage since we are likely to become critical of the community we have identified with. We begin to detach ourselves from it and to dismantle some of our previous beliefs.
This stage is often associated with leaving home – either literally or metaphorically. For example, young people may go away to tertiary study, get married, or start a new job. It involves developing a new respect and trust for one's own intuition, feelings and judgements rather than such a heavy reliance on the views of others. People at this stage appreciate freedom to express their own views in forums that encourage questioning and interaction. They start to enjoy encounters with the beliefs and practices of people they previously stayed away from. They don't sit easily in any leadership structure that pushes for conformity.
Stage Five: The Seer. At this stage we are much less defensive about our own beliefs and more open to others' perspectives on reality. Though confident in our beliefs, we begin to demonstrate more humility as we become more aware of the depth of the unconscious and the unknown. Our faith is increasingly able to live with ambiguity and paradox. Truth is no longer a question of "either-or", but "both-and". Symbols, myths and stories take on a new relevance. We begin to love mystery and the vastness of the unknown.
Stage Six: The Saint. This is rare. It usually occurs only late in life – if at all. Mother Teresa is often offered as an example. This stage results when a preoccupation with self gives way to a sense of mystical unity with all things and the complete acceptance of the ultimate authority of God in all aspects of life. This last stage is more speculative and less empirically grounded than the other stages and not particularly relevant to our purposes.
Whether Fowler's categories are exactly correct or not, it is clear that people do go through stages of revising their understanding of faith. Frequently this can leave them feeling quite confused and vulnerable during the times of transition – especially if they don't understand what is going on for them. Sometimes it can feel or look as if they are losing their faith, because it does involve some letting go of existing beliefs.
However, it is generally more helpful to view this as part of the process of moving from one understanding to another. This is a positive and healthy thing, though we do need the help of committed companions and wise counsel in the midst of such transitions.
It is not the purpose of this book to explore Stages of Faith in detail. However, it is clear that the Bible is the story of people on a journey of faith, resulting in a growing understanding of God and His purposes.
The Bible clearly talks about the development of individuals' faith in similar terms. Luke notes that "…Jesus grew in wisdom and stature and favour with God and with people"(Luke 2:52.) The Apostle Paul tells the church at Corinth, "(We)…are being transformed into his likeness with ever-increasing glory" (2 Corinthians 3:18). Peter writes, "Add to your faith goodness; and to goodness knowledge; and to knowledge self-control; and to self-control…" (2 Peter 1: 5-6). And the writer of Hebrews reproves his readers: "You need milk not solid food!...(for) solid food is for the mature, who by constant use train themselves to distinguish good from evil" (Hebrews 5:12-14).
We are people in the process of growing. Always changing. Always deepening and developing our understanding of our faith. The stages of faith we find ourselves growing through will inevitably impact on how we see and pursue our SoulPurpose. So it is important that we recognise how faith factors may influence the way we respond to transitions and crises in our lives – just as much as the other factors we have looked at, such as changes in career, and personal and family issues.
---
---