Esther: "For Such a Time as This"
Book / Produced by Individual TOW Project member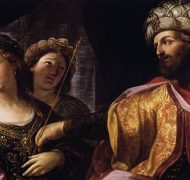 The book of Esther in the Bible provides a fascinating true-life contrast to Warren Schmidt. It tells the story of the Jewish girl Esther, "drafted" into the harem of Xerxes, Great King of Persia. Eventually she becomes his Queen. It all seems like a fantasy come true…
But a storm is brewing. Esther's adopted father Mordecai has aroused the hatred of a powerful noble. Haman is advisor to the King, and Mordecai has refused to pay homage to him. Haman is furious and turns his anger on Mordecai and his people. He is determined to rid the land of all Jews. Haman's goal becomes nothing less than their total annihilation.
Up to this point Esther has kept silent about her Jewish background. But now Mordecai turns to her for help. He implores her to intervene and try to influence the king in order to avoid impending disaster. Initially she is reluctant, fearing for her life, but Mordecai is emphatic. He sends her a message…
"Do not think that because you are in the king's house you alone of all the Jews will escape. For if you remain silent at this time, relief and deliverance for the Jews will arise from another place, but you and your father's family will perish. And who knows but that you have come to royal position for such a time as this?" (Esther 4: 13-14 (NIV))
The story ends well. Esther takes the risk and gains an audience with the king, where the evil intentions of Haman are exposed. The king's response is rapid. He orders Haman hanged on the very gallows he has erected for Mordecai. The Jews are saved. Mordecai is elevated to Xerxes' second-in-command. And Esther, once a poor Jewish child, having saved her people, continues to live as Queen of the super-power of her day.
---
---