Authority (Psalm 8)
Bible Commentary / Produced by TOW Project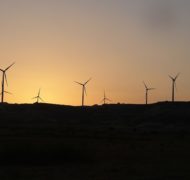 Psalm 8 is an exception in Book 1, as it does not pertain specifically to David. Its concern is with all human authority, not only David's rule. Although God created the entire universe (Ps. 8:1-3), he chose to appoint human beings to rule over the creation (Ps. 8:5-8). This is a high calling. "You have made them a little lower than God, and crowned them with glory and honor. You have given them dominion over the works of your hands; you have put all things under their feet" (Ps. 8:5-6). When we exercise authority and leadership, we do so as God's delegates. Our rule cannot be arbitrary or self-serving, but must serve God's purposes. Chief among these are caring for the creatures of the earth (Ps. 8:7-8) and protecting the weak and vulnerable, especially children (Ps. 8:2).
If we gain authority in work, it is tempting to regard our position as a reward for our hard work or intelligence and to exploit our authority for personal gain. But Psalm 8 reminds us that authority comes not as a reward, but as an obligation. It is right that we should be accountable to superiors, boards of directors, trustees, voters or whatever earthly forms of governance we serve under, but that alone is not sufficient. We must also be accountable to God. Political leaders, for example have a duty to pay attention to the best environmental and economic science available when considering energy policy, whether or not it accords with current political winds. Similarly, business leaders are called to anticipate and prevent possible harm to children —whether physical, mental, cultural, or spiritual—from their products and services. This applies not only to toys, movies, television, and food, but also to retailing, transportation, telecommunications, and financial services, among others.
---
---
Copyright
Contributors: Duane Garrett, Lindsay Wilson, Russell Fuller
Adopted by the Theology of Work Project Board June 6, 2014.
Author: Theology of Work Project
Theology of Work Project Online Materials by Theology of Work Project, Inc. is licensed under a Creative Commons Attribution-NonCommercial 4.0 International License. Based on a work at www.theologyofwork.org
You are free to share (to copy, distribute and transmit the work), and remix (to adapt the work) for non-commercial use only, under the condition that you must attribute the work to the Theology of Work Project, Inc., but not in any way that suggests that it endorses you or your use of the work.
© 2014 by the Theology of Work Project, Inc.
Unless otherwise noted, the Scripture quotations contained herein are from the New Revised Standard Version Bible, Copyright © 1989, Division of Christian Education of the National Council of the Churches of Christ in the U.S.A., and are used by permission. All rights reserved.