Trusting God in the Face of Institutional Pressure (Psalm 20)
Bible Commentary / Produced by TOW Project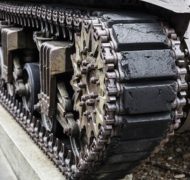 Psalm 20 teaches us to trust God rather than human power, such as military might. "Some take pride in chariots, and some in horses, but our pride is in the name of the Lord our God" (Ps. 20:7). Financial assets, no less than military assets, can be the basis for a false faith in human power. For that matter, we should recall that in the ancient world only the upper class soldiers would have horses and chariots. The ordinary soldiers would be drawn from the peasants and be on foot. It is a disturbing reality that even modest wealth and power often draw us away from God.
---
---
Copyright
Contributors: Duane Garrett, Lindsay Wilson, Russell Fuller
Adopted by the Theology of Work Project Board June 6, 2014.
Author: Theology of Work Project
Theology of Work Project Online Materials by Theology of Work Project, Inc. is licensed under a Creative Commons Attribution-NonCommercial 4.0 International License. Based on a work at www.theologyofwork.org
You are free to share (to copy, distribute and transmit the work), and remix (to adapt the work) for non-commercial use only, under the condition that you must attribute the work to the Theology of Work Project, Inc., but not in any way that suggests that it endorses you or your use of the work.
© 2014 by the Theology of Work Project, Inc.
Unless otherwise noted, the Scripture quotations contained herein are from the New Revised Standard Version Bible, Copyright © 1989, Division of Christian Education of the National Council of the Churches of Christ in the U.S.A., and are used by permission. All rights reserved.