Company Faith Atmosphere Questionnaire
Article / Produced by TOW Project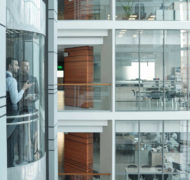 IS YOUR COMPANY READY FOR A FAITH-BASED EMPLOYEE RESOURCE GROUP (ERG)?
Answer these questions to evaluate your company's spiritual climate.
Does your organization currency have any Employee Resource Groups? Other names could be Affinity Groups, Business Resource Groups, or Business Network Groups.
If yes, what types of groups or subgroups does your company currently offer?

Women
Environmental
Next Generation
LGBTQ
Religious
Interfaith
Other ______________________

Does your organization currently have a Diversity & Inclusion or Diversity, Equity & Inclusion team?
What is the name and title of the head of your company's D&I or DEI team?

Name/Title: ___________________________

Do you know this person?
Does your organization currently celebrate any holidays or observe certain annual days aligned with causes?

Christmas
Hannukah
Kwanza
Earth Day
International Women's Day
Other______________________
---
---
Copyright
Image by Pressmaster . Used with Permission.
Author: Theology of Work Project
Theology of Work Project Online Materials by Theology of Work Project, Inc. is licensed under a Creative Commons Attribution-NonCommercial 4.0 International License. Based on a work at www.theologyofwork.org
You are free to share (to copy, distribute and transmit the work), and remix (to adapt the work) for non-commercial use only, under the condition that you must attribute the work to the Theology of Work Project, Inc., but not in any way that suggests that it endorses you or your use of the work.
© 2014 by the Theology of Work Project, Inc.
Unless otherwise noted, the Scripture quotations contained herein are from the New Revised Standard Version Bible, Copyright © 1989, Division of Christian Education of the National Council of the Churches of Christ in the U.S.A., and are used by permission. All rights reserved.