The Business Results of Employee Resource Groups (ERGs)
Article / Produced by TOW Project and Partners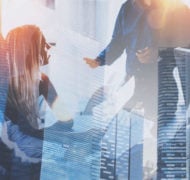 RECRUITMENT
Diverse companies are seen as excellent places to work.
When a prospective employee sees Employee Resource Groups that reflect their background or deeply held beliefs, that prospect feels more confident accepting a job where they know they will have allies and an immediate personal network.
Appreciating and capitalizing on diversity is a winning strategy – this can be seen in the frequent overlap among Diversity Inc. magazine's list of top 50 companies and Fortune magazine's 20 most admired companies.

As different as their products or services may be, what all these companies have in common is management's belief that the diversity of their employees is essential to their success in the marketplace.

- Priscilla H. Douglas, "Affinity Groups: Catalyst for Inclusive Organizations.
RETENTION
In the age of the great resignation, retaining dedicated talent is more important than ever before. The work of Employee Resource Groups — especially faith-based groups – helps organizations fight employee attrition head-on.
It has increased the retention of existing employees. They are less likely to leave because it's so rare to be acknowledged in your faith. You feel that you won't find that somewhere else. It increases recruiting, because we can talk about our faith inclusion publicly and employees, for whom that is important, are very drawn to that. It increases our branding, because we really do show up as an authentically trailblazing organization when it comes to all types of diversity, not just the traditional ones.

- ERG leader quoted in Chung et al.
ERG STATS AT AT&T
At AT&T, 1st year retention of employees is 10%
Among members of ERGs at AT&T, retention jumps to 85.6%
Participation in an ERG increases AT&T's retention by 756%
---
---