Religious Freedom and Employee Resource Groups (ERGs)
Article / Produced by TOW Project and Partners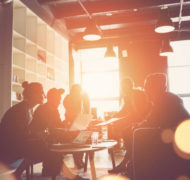 There is no law that mandates employers to allow faith-based Employee Resource Groups in their organizations. However, there are national and state laws that protect your ability to talk about your religion in the workplace, and protect you from discrimination based on your religion.
TITLE VII AND RELIGIOUS FREEDOM FOR EMPLOYEE RESOURCE GROUPS (ERGS)
Under Title VII of the Civil Rights Act of 1964, businesses may not discriminate against employees on the basis of religion. Discrimination includes being passed up for a promotion, being harassed because of your religion, or experiencing hostility in your workplace. Title VII does not mandate employers to allow faith-based Employee Resource Groups to meet within their companies. You may always talk about your faith with other people in your workplace. However your employer is not legally mandated to provide a sanctioned venue for those meetings.
STATE ENFORCEMENT OF FREEDOM OF RELIGION, AND THE IMPACT ON EMPLOYEE RESOURCE GROUPS (ERGS)
If you experience religious discrimination in your workplace, such as being harassed or denied a promotion due to your faith, state enforcement agencies will provide assistance and advice. Many states have an independent Commission Against Discrimination that offer trainings and mediate disputes between employees and their employers. In building a case for an ERG in your company, it may be helpful to bring in resources from your state's anti-discrimination commission showing that employee groups increase the type of awareness and openness that prevents harassment and discrimination. Alternatively, there may be state-wide nonprofit groups that are not state funded but provide training to businesses and employees.
INCLUSIVITY MANDATES FOR FAITH-BASED EMPLOYEE RESOURCE GROUPS (ERGS)
For reasons of legal compliance – and good evangelism – it's important to keep membership in your ERG open to all employees, whether or not they are practicing Christians. If membership in an Employee Resource Group is limited, employees who are excluded could claim discrimination. To protect yourself, and should include language in your ERG mission statement making it clear that all employees are welcome regardless of their faith background or beliefs.
---
---