Foreword: To Potential Leaders of Faith-Based Employee Resource Groups (ERGs)
Article / Produced by TOW Project and Partners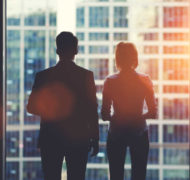 TO FAITHFUL LEADERS IN THE WORKPLACE
We've been praying for you.
There is a growing movement in companies around the world. Christians no longer want to leave their beliefs at the door when they walk into their places of work. They are tired of separating themselves into Sunday-believers and Monday-through-Friday-workers. They want to bring themselves, all of themselves—their beliefs, their values, their hopes and ideals—into the work they do every day.
And so we have seen the rise of ERGs, or Employee Resource Groups. ERGs have cropped up in every industry, location, and functionality you can imagine. No matter where people work or what they do for their job, they are hungry to connect with those who share their identity and beliefs. ERGs let these workers know they are seen, heard and valued in their workplaces.
This is good news for business. Companies with ERGs report better success with employee retention and job satisfaction. It seems that people are happier at work and do better at their jobs when they are allowed to express their calling openly. ERGs seem to be a win-win for Christians and employers alike.
But not all has been smooth sailing for Christians in the workplace. Many companies are fearful about faith-based groups gathering on their premises. They say that religion has no place in the workplace. They say "We already have a Christmas tree." They put up roadblocks or even threaten their employees with legal action. This playbook provides a roadmap for the faithful leader who wants to launch a faith-based Employee Resource Group or ERG. In this playbook, you will learn how to assess your company's readiness, and the readiness of your network. You will find language for your vision, and learn to deflect common objections. More importantly, you'll hear from other ERG leaders who went before you. From them you'll hear what worked and what success has meant for their organizations.
We hope to encourage you. This work is important. We are already praying for your success!
---
---