Psalms
&

Poems for a Service on Work

Worship / Produced by partner of TOW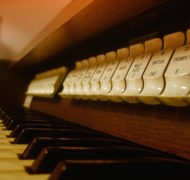 These Psalms are part of "Work in Worship," a collection of material for work-themed services compiled by David Welbourn. For more prayers, songs, readings and sermons, click on the table of contents to the right.
PSALMS
1. Biblical Psalms
PSALM 8
Human beings have a special destiny and responsibility as masters of creation.
PSALM 15
The honest person is acceptable to God and obeys the divine laws.
PSALM 19
God's creation bears witness to God's design of and plan for the world.
PSALM 46
In times of trouble God is our strength and support.
PSALM 65
God has ordered the world and given human beings enough to supply their needs.
PSALM 67
God has blessed humankind.
PSALM 90
God sees how human beings have misused his creation.
PSALM 95
Thanksgiving is due to God for his creation and salvation.
PSALM 96
Thanksgiving to God for creation.
PSALM 100
What God has done is cause for rejoicing.
PSALM 104:1-25
The vastness of God's creation and the glory of his works.
PSALM 107: 23-32
God is active in his creation.
PSALM 8 (an alternative translation)
O Lord our God: the whole earth glorifies your name!
Your praise stretches to the heavens on the lips of
infants and children.
You tower over your enemies,
and defeat all who oppose you.
When I look at the night sky, the moon and the stars you created,
how insignificant humans seem, and yet you cherish them.
You share your glory with men and women,
as it they were gods beside you.
You have made them masters of creation:
everything is subject to their authority,
Cattle and sheep, and every living creature,
soaring birds, sea fish and the teeming life of the oceans.
O Lord, our God: the whole earth glorifies your name.