The Claimant's Psalm (based on Psalm 69)
Prayer / Produced by partner of TOW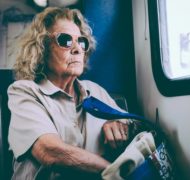 Claimant: Look, all I want is some money so I can buy the kids some food for the week-end.
Officer: I'm sorry, I can't authorise it. There's some problem with your file.
SAVE ME O GOD!
FOR THE WATERS HAVE COME UP TO MY NECK.
Claimant: I haven't got any money. I need some money so I can feed the kids.
Officer: Are you claiming under Regulation 4(1) of the supplementary benefits requirements regulations 1983, No 1399; or for an Urgent Needs Payment under Regulation 21, (Urgent Cases) regulations, No 1529?
I SINK IN THE DEEP MIRE
WHERE THERE IS NO FOOTHOLD;
Claimant: I don't bloody know!
Officer: You do know, though, that if you make a false claim you render yourself liable for prosecution, don't you?
I HAVE COME INTO DEEP WATERS,
AND THE FLOOD SWEEPS OVER ME.
Claimant: Look, I don't care what you call it. I haven't eaten for two days. I just want something so that I can feed the kids.
I AM WEARY WITH MY CRYING;
MY THROAT IS PARCHED.
Officer: Just wait here one moment, I'll go and fetch the supervisor.
MY EYES GROW DIM WITH WAITING FOR MY GOD.
Claimant: I've been here five hours already!
Supervisor: Ah, Mr Scrounger, we were wondering when you'd come in.
MORE IN NUMBER THAN THE HAIRS OF MY HEAD
ARE THOSE WHO HATE ME WITHOUT CAUSE;
Claimant: I was just saying to the other bloke that all I want is some money to feed the kids for the weekend.
Supervisor: Your benefit has been stopped, Mr Scrounger. We've reason to believe you've been working while claiming.
MIGHTY ARE THOSE WHO WOULD DESTROY ME;
THOSE WHO ATTACK ME WITH LIES.
Claimant: That's a bloody lie!
Supervisor: I'm sorry, your benefit has been suspended until the matter can be properly investigated. We may find that you owe us some money!
WHAT I DID NOT STEAL MUST I NOW RESTORE?
Claimant: It's a lie, it's a bloody lie!
Supervisor: Mr Scrounger, acting on an anonymous phone call, we had our fraud people watch your movements. Last Monday morning you looked after a neighbour's children. We have reason to believe you were paid cash in hand.
O GOD, THOU KNOWEST MY FOLLY;
THE WRONGS I HAVE DONE ARE NOT HIDDEN FROM THEE.
Claimant: I can't believe this. You just can't be real!
Supervisor: Good day, Mr Scrounger. We will be writing to you about the matter in due time. Now, if you wouldn't mind leaving, I don't think there's anything else to keep you here...
Claimant: But I haven't got any money! What are the kids going to eat?
BUT I AM AFFLICTED AND IN PAIN;
LET THY SALVATION, O GOD, SET ME ON HIGH!
Claimant: What about the kids?
I WILL PRAISE THE NAME OF GOD WITH A SONG;
I WILL MAGNIFY HIM WITH THANKSGIVING.
Government spokesman: The Department of Social Security administers the income support system. This is a "safety net" scheme to ensure that no-one in our society ever need go hungry.
THIS WILL PLEASE THE LORD MORE THAN AN OX,
OR A BULL WITH HORNS AND HOOFS.
Spokesman: But sadly there always will be fraud, and we have a duty to our taxpayers to ensure the minimum of abuse of the system.
LET THE OPPRESSED SEE IT AND BE GLAD;
YOU WHO SEEK GOD, LET YOUR HEARTS REVIVE.
Spokesman: Of course, the country would be a lot better off if real wages were lower; people are just pricing themselves out of the market.
FOR THE LORD HEARS THE NEEDY,
AND DOES NOT DESPISE HIS OWN THAT ARE IN BONDS.
Spokesman: And also, as you know, part of the problem is that benefits are too high; it's often not worth people's while to get a job.
LET HEAVEN AND EARTH PRAISE HIM,
THE SEA AND EVERYTHING THAT MOVES THEREIN.
Spokesman: You know, we really are a caring Government.
FOR GOD WILL SAVE ZION AND REBUILD THE CITIES OF JUDAH;
AND HIS SERVANTS SHALL DWELL THERE AND POSSESS IT;
THE CHILDREN OF HIS SERVANTS WILL INHERIT IT,
AND THOSE WHO LOVE HIS NAME SHALL DWELL IN IT.
Claimant: I just want some money to feed the children over the weekend.
Officer: It's alright, I've checked.Your giro's in the post.
(Christians' Unemployment Group 'An Unemployment Worship Book' [c.] )
---
---