I Am Angry About Unemployment, What Now? (Prayer)
Worship / Produced by TOW Project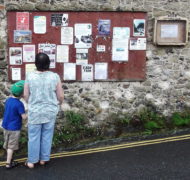 Lord, I am angry.
Forgive me.
Lord, why me (once more)?
But why not me?
I'm no more important than the others;
After all, it was just a job.
But it was a livelihood.
I was sad to let go.
The job could be boring.
It could be monotonous.
But it could be fulfilling.
It was worthwhile.
What now, Lord?
Show me the way forward.
(R Kempsell)
---
---
Copyright
Image by Dan Slee / Flickr . Used with Permission.
Excerpted from "Work in Worship (Revised edition 1997): A collection of material for those compiling 'work theme' services. Compiled and edited by David Welbourn, Industrial Christian Fellowship. Used by permission. The Theology of Work Project does not control copyright for this material.
Unless otherwise noted, the Scripture quotations contained herein are from the New Revised Standard Version Bible, Copyright © 1989, Division of Christian Education of the National Council of the Churches of Christ in the U.S.A., and are used by permission. All rights reserved.