Week-Long Cycle: Work Prayers for Each Day
Worship / Produced by partner of TOW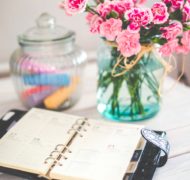 This week-long cycle of work prayers is part of "Work in Worship," a collection of material for work-themed services compiled by David Welbourn. For more prayers, songs, readings and sermons, click on the table of contents to the right.
MONDAY
"After eighteen years I was made redundant"
I remember today
… all those living with the threat of redundancy… those recently made redundant… especially… those
missing the status, colleagueship, creativity and routine of employment… those who want and need paid
work… especially…
Lord, make me more than sensitive to the needs of those who are searching for work and a living wage.
Help me through encouragement, support and change to reorder life so that the skills of all may be used to
create a more human world.
WE ARE MEMBERS ONE OF ANOTHER (Ephesians 4:24)

TUESDAY
"The productivity scheme was bull-dozed through"
I remember today
… those who work in places where the pressure for profit and productivity has all but pushed out concern
for human beings… those who suffer the consequences of bad management caused by inadequate
consultation… those who give time at work to represent others in the search for justice and human
dignity… especially…
LET JUSTICE ROLL DOWN LIKE WATERS (Amos 5:24)

WEDNESDAY
"The boss likes to have a happy ship"
I remember today
… all the good things about my work… the things that bring satisfaction… that make me laugh… the
people around me who are good at their job… especially… those who are concerned for others' welfare
as well as their own…
Lord, in my search for happiness, keep me sensitive to the things that still need to be put right lest my
contentment with the good prevents me from experiencing the best.
I CAME THAT THEY MAY HAVE LIFE… ABUNDANTLY (John 10:10)

THURSDAY
"I got 20p an hour rise this week, to £3.40"
I remember today
… all who are in jobs well below their ability…all who are poorly rewarded for their work… especially…
those who are discriminated against because of their sex, colour, disability or age… all who work in
insecure, dead-end, poorly supported work… especially… all whose weekly income falls below what is
necessary for a decent life…
Lord of the rich and the poor, help us to organise our work and economy with justice and a true sense of
our responsibility for each other.
LOVE YOUR NEIGHBOUR AS YOURSELF (Luke 10:27)

FRIDAY
"Everything is piling in"
I remember today
… all those under heavy pressure at work… especially… those trying to cope with demands beyond their
capacity… those who regularly have to take work home… those whose family and social life is suffering
as a result of personal stress… especially…
Lord, we pray for skill to balance creatively the demands made on us in times of stress and to learn new
ways of coping.
THE TASK IS TOO HEAVY FOR YOU; YOU CANNOT DO IT ALONG (Exodus 18:17)

SATURDAY
"My boss works from seven in the morning till seven at night and at weekends"
I remember today
… all those who have to work while I enjoy my leisure… especially… all those who are under pressure to
work 'all the hours that God sends'… and those who need some of my 'quality time'… my own mental
and physical need for relaxation.
Lord, teach me that there is more to life than work. Give me the ability to relax and enjoy life with family
and friends.
GOD FINISHED THE WORK HE HAD DONE AND RESTED (Genesis 2:2)

SUNDAY
I remember today
… the opportunity this day brings for renewal in body, mind and spirit… the way in which , together with
others in our congregation and church groups, I can worship God, offer my whole week's work, be
forgiven, be affirmed, be led to deeper faith, vision and strength for my life and work…
Lord, you call me to worship and to be faithful every day. I pray today for those who will help me to
sense your presence about me. Stengthen me as I share with others in the renewal of your creation.
MY YOKE IS EASY (Matthew 11:30)
---
---