Work in Worship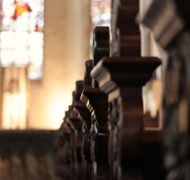 A Collection of Material for Those Compiling "Work Theme" Services
From the book "Work in Worship," written by Cameron Butland, edited and compiled by Rev David Welbourn. Download the full Work in Worship book as a PDF.
We provide Prayer Material for Services under various headings – Opening, Thanksgiving etc – which are intended as building-blocks for a work-theme service. But before going any further, let us briefly consider some basic principles of service compilation, and ask ourselves what purposes should be served in services of worship. In its essence, worship is about praise and adoration of God, recognition of what he is and what his purpose is in relation to us and the world. It is also about orienting ourselves to the divine purpose, equipping ourselves to be more effective agents in carrying that purpose out. In much lower order of priority, it is about presenting our wishes to God, but always in the context of acknowledging God, his purpose and his claims. A service of worship is not primarily a vehicle for imparting information, although this will have its place if, again, it is part of our orienting ourselves towards God and his purpose.
Other important questions to ask are, Who is this service for? What are their needs and circumstances? What is their experience of the world of work, or unemployment? How much can they reasonably be expected to take of what is new or unfamiliar? To what extent should a work- theme service be based on worship frameworks to which members of the congregation are already accustomed? Or (given that such a service may be especially intended to accommodate non-regulars from the world of work), to what extent should the normal congregation be prepared to suspend their normal habits and expectations?
Using lay people in the preparation of services
When it comes to preparing work-theme services it should be borne in mind that working lay people are likely to know more about working life than the average clergyperson or minister. This is true even of clergy who have themselves had experience of the world of work, for that world has changed so much in recent years that even comparatively recent experience could be out-of-date. There is therefore an important role for lay people in the preparation of work-theme worship, particularly with regard to sermons. While the clergyperson, who by training possesses theological and liturgical skills, will normally take final responsibility for the theology and structure of the service, the actual content should be decided collaboratively.